Spain boasts a wealth of cultural heritage, breathtaking scenery, and a Mediterranean lifestyle. Whether you're searching for a great vacation getaway, a permanent residence, or a wise investment opportunity, villas in Spain offer an irresistible fusion of ageless grace, contemporary luxuries, and unmatched attraction. In this article, we will delve into the charm of villas in Spain, from their stunning architectural design to their prime locations. This article contains everything you need to know about the top 5 best villas in Spain to help you choose the best for your stay.
---
The Best Villas In Spain
Villa Flora

Villa Flora | heybucketlist
Villa Flora is one of the best lovely standalone villas in Spain. The villa is in lush Mediterranean gardens with a spacious exclusive swimming pool. The villa comprises 3 bedrooms – 1 master bedroom and 2 double bedrooms, comfortably accommodating up to 6 visitors. There are 2 washrooms, a completely equipped kitchen with a microwave and washing machine, and a spacious sunny living room with a place for cosy evenings. The villa also features a spacious balcony with open-air dining, breathtaking views, and an external kitchen and BBQ area for dining al fresco.
The 8×10 private pool is fenced for safety and has a separate toilet and shower area. The mansion also provides free Wi-Fi, a TV with video access, and a paella burner with a gas ring. With its tranquil location encircled by hills and citrus orchards and just a brief drive to stunning sandy beaches, this is one of the best villas in Spain for a calm and unforgettable stay.
---
2. Casa Flores
Casa Flores is a stunning terraced Mar Menor Luxury Golf Resort and Spa Villa. Families with children prefer this villa. The villa is conveniently located and has attractive facilities for its guests. It is one of the best villas in Spain that boasts a spacious living area comprising 2 bedrooms with 3 beds, providing comfortable accommodation for up to 4 visitors. The villa has 2 washrooms, a well-stocked kitchen, a veranda, and air conditioning for a pleasant stay. 
The resort is enclosed with 24-hour surveillance and provides facilities such as a communal pool, golf course, running tracks, paddleball courts, and a spa. Moreover, eateries, a grocery store, and other amenities are within walking distance. The Mar Menor Lagoon and Mediterranean beaches are just a short drive away. The villa is pet-friendly on prior consent, and there are regulations for cancellations, check-in/out timings, and liability for any harm caused.
---
3. Irmgard
Irmgard is one of the most attractive luxury villas in Spain, with a private swimming pool and breathtaking ocean views. It is in a peaceful residential neighbourhood on the outskirts of the Montgo nature reserve. The villa provides two bedrooms with modest Spanish decor, a practical kitchen, and a living-dining room with a kitchen. Large sliding doors from the living space lead to a spacious covered terrace with stunning ocean views. The well-manicured garden showcases verdant lawns, graceful palm trees, and Mediterranean flora, with a comfortable sun terrace and BBQ area near the pool.
The villa comes with amenities like TV, satellite or cable, heating, parking, and pets are allowed. However, please be aware that additional expenses must be paid in cash upon arrival, such as a booking fee, registration fee, final cleaning/critical delivery, bed linens/towels, dog care, and a refundable security deposit. The primary renter must be at least 25, and singles groups are prohibited. The property has a strict no-smoking policy, and check-in time is after 5:00 pm, while check-out time is before 10:00 am.
---
4. Cortijo El Paraiso Tropical
Cortijo El Paraiso Tropical Villa is one of the best villas in Spain. It is situated atop a mountain in Montealegre and boasts awe-inspiring, all-encompassing vistas of the Mediterranean Sea and charming hills. The villa accommodates up to eight guests in four bedrooms and has two bathrooms, making it a perfect choice for families or groups of friends. The interior features of the living space are complete with a fireplace, a fully-furnished kitchen, and a dining area. 
The outdoor area is exceptional, with a private pool, sunbeds, a Balinese bed, a covered barbecue area, and a gazebo that overlooks the vineyard. Access to the villa is via a 1.5-kilometre-long road, and refunds are available based on the cancellation policy. Also, it is not a pet-friendly property. Overall, the villa provides the ultimate getaway with breathtaking views, luxurious amenities, and an idyllic location for an unforgettable holiday experience.
---
5. Casa El Olivo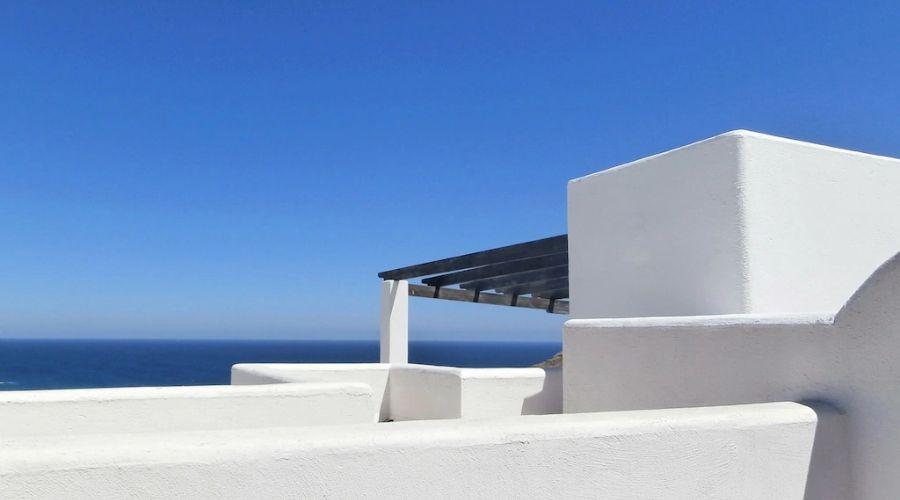 Casa El Olivo is a seafront villa in Spain that ensures a calm summer environment. The swimming pool in this villa exhibits an infinity edge. It presents a revitalizing location to relish the breathtaking views, while the well-preserved garden, featuring olive, orange, and palm trees, contributes to the serene ambience. The villa is fully furnished and guarantees a comfortable stay close to the bustling town of Las Negras. It is recognized for its fishing charm and is located in the Natural Maritime Park of Cabo de Gata. 
The area experiences the highest number of sunshine hours in Europe, making it an ideal destination throughout the year. The villa, a personal host, is supervised by Angel and has a flexible cancellation policy with refund options depending on the schedule. The house rules entail check-in after 3:00 pm, check-out before 11:00 am, a maximum of six overnight occupants, the minimum age for renting is 28, infants between the ages of 0 and 2 are allowed, no pets or events are permitted, and smoking is only allowed outdoors.
---
Conclusion
In conclusion, Spain is wealthy with great activities and tourist attractions. Choosing the right place to stay in Spain could take time, as it offers many lodging options. The article has 5 best villas in Spain to help you decide the best place for your stay. Whether you are looking for a luxurious or affordable stay, the villas in Spain will satisfy your lodging requirements. For more information, visit Heybucketlist.
---
FAQs