Portugal has gained popularity over the past few years, and there are no immediate indicators that this trend is about to slow down. These properties are from the northern part of Portugal, which includes the Azores, to the southern Algarve region, as well as from there. Among other things, the tremendous effort and expense made on distinctive amenities like heated indoor swimming pools, heated jacuzzis/hot tubs, gyms, tennis courts, bicycles, and separate luxury villas from market standards. We think these amenities incorporated within these Villas in Portugal will finally be able to give you peaceful vacations that you won't soon forget.
Best Villas in Portugal
1. Quinta Do Lago Luxury Villa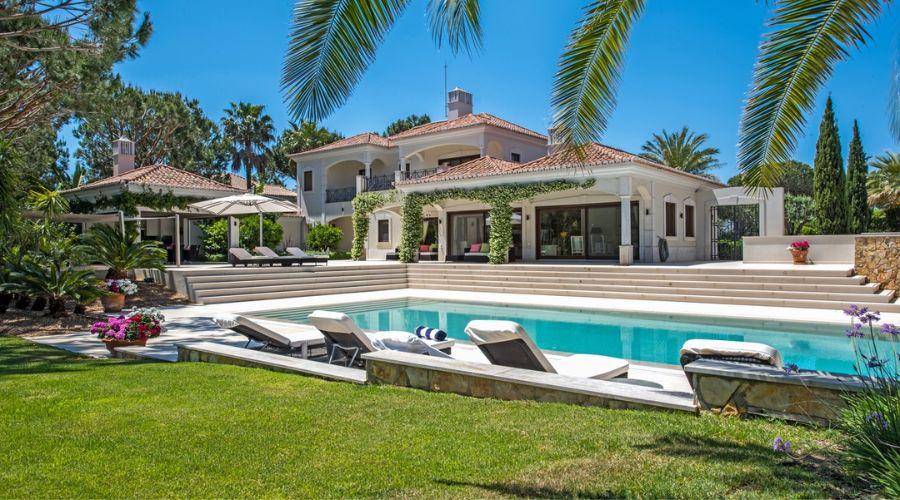 A stunning, six-bedroom modern villa located in Quinta do Lago, a world-class resort. Fantastic views of the resort are made possible by the construction of this house, which was built on an incline, and its living quarters in an elevated area. With its highly desired position, this resort is only 750 meters by foot from the lake and offers first-rate lodging and amenities. Visitors to these villas in Portugal are welcome to enjoy the Encosta do Lago neighbourhood's shared amenities, which include the restaurant, tennis courts, gym, and swimming pool. 
There are cosy sofas in the living room, together with a big TV and DVD player. You have access to a computer in a section of the living room that has been set up as an office. A sizable table that can accommodate ten persons comfortably is in the dining room. A games room with a football table and an indoor heated pool is included in the rental rates. Full-length windows that swing outward provide direct access to the garden area and outdoor pool.
---
2. Villa with Private Pool and Extended Garden
Casa Oliveira is a brand-new, well-constructed modest complex with subtle and expansive views of the Monchique mountains. Ferragudo, a charming, unspoiled fishing village with multiple banks, shops, taverns, and restaurants, is accessible by foot in only a few minutes. A lobby greets you as you approach the villa and leads to the roomy open-concept living and dining area. The partially covered terrace and pool area are accessible by patio doors from this. 
The downstairs bedrooms, which consist of 3 twin bedrooms, are to the left of the foyer, one of which has an en suite bathroom. On this floor, there is also a separate bathroom and shower area. The main double bedroom is upstairs. It has an en suite bathroom, air conditioning, heating, a dressing space, and a private patio with steps down to the pool area. Asa Oliveira provides such villas in Portugal that are comfortable, homelike, well-equipped, and pool to make your vacation hassle-free and simple.
---
3. Modern Villa with Lagoon views and Private heated Pool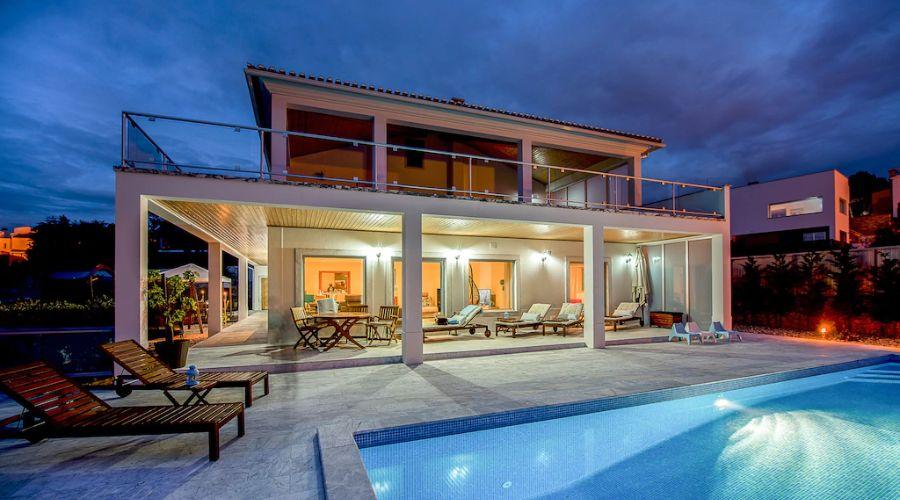 For discerning customers looking for a contemporary villa built to take advantage of the sun and the beautiful views of Obidos Lagoon, Villa Bellamy is a spectacular dream home. Just like many other villas in Portugal this one is beautifully finished and situated in the upscale neighbourhood of Foz do Arelho, just a short stroll from the lagoon and beaches. There are four spacious bedrooms, four bathrooms, a sleek kitchen with Miele appliances and Silkstone marble counters, and a separate laundry area.
The villa is ideal for a family vacation because it is well-suited for infants and children. You can walk to the lagoon and a sailing school with sailing, canoeing, windsurfing, and many other water sports. This comfortable and roomy vacation home has historic elements. Relax in the lovely gated gardens or spend time in the sun beside the private pool. These villas in Portugal provide the ideal location which makes it easy to access the neighborhood's restaurants and shopping.
---
4. Beautiful Villa with Tropical Garden and Private Pool
A newly constructed luxurious detached villa. The Praia do Carvoeiro centre and the beach is both accessible by foot. The entire property is surrounded by walls and includes a separate driveway and parking area and a heated private pool. A large house and a tiny dwelling make up the villa. These two independent living units are joined. The enormous residence contains a spacious living room, a multi-media TV, and a seating space. A fully equipped open kitchen is available.
In the centre of the Algarve sits the traditional fishing village of Carvoeiro. Since high-rise structures are not permitted, the community has managed to maintain its endearingly genuine charm. A lovely beach bay is directly bordered by the village square. There are many bars and eateries. Carvoeiro is the ideal starting point for all activities because of its strategic location. Nearby are some of the most stunning beaches in the world. There are many golf resorts nearby.
---
5. Holiday Villa with Private Pool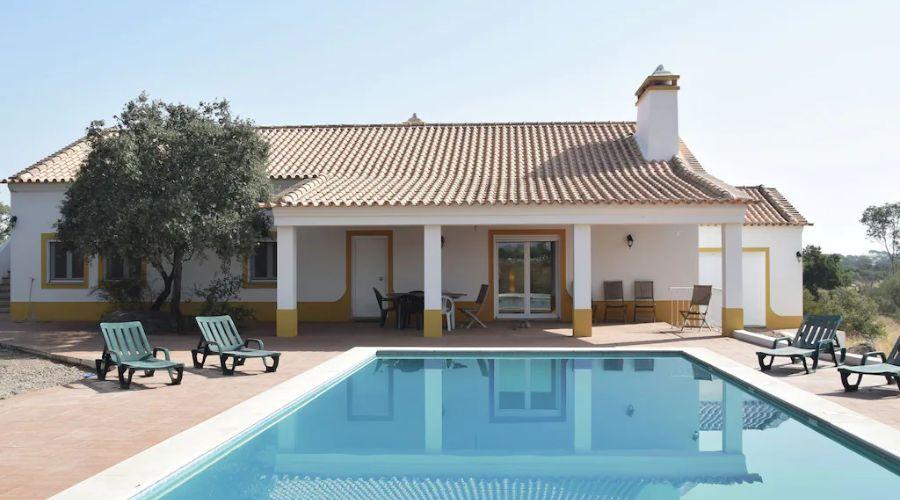 During your stay at this property in Portugal, relax on the sun loungers and cool off in the private pool. The place situated in Vimieiro and 3 kilometres from the bustling town centre is a perfect place for families and parties. The rural area offers wonderful lengthy walks to enjoy the best of nature. Drive to Praia de Porto Novo, a stunning and untamed beach with a paved walkway for pedestrians, cyclists, and hikers.
You may fire up the BBQ and party on the covered terrace. There is a gated yard with lovely outdoor dining furniture. A children's bed and a high chair are available to make your stay with young children comfortable. These Villas in Portugal are the cherry on the top among other exciting things to do in the country.
---
Conclusion
You can find all the information here that would help you choose villas in Portugal if you are planning to visit the place and are looking to stay at one of them. The Resorts listed in this article provide a pleasant and comfortable stay throughout the trip and are regarded as cheap villas in Portugal. Read more on Heybucketlist!
FAQs