Despite being a small archipelago, it has so much beauty around it. The tiny nation is more than its beautiful beaches, unique architecture, and remarkable landscapes. Its weather makes it a perfect summer destination for many. You can enjoy a luxury vacation in Malta, for which the country is famous. Luxury accommodations like hotels, boutique hotels, palazzos, farmhouses, and private luxury villas in Malta are not hard to come by. They are easily found and have everything to make your vacation more fun and comfortable. 
Being a popular travel destination, especially for Europeans, there is no hustle involved when finding villas in Malta. There are so many villas that you have to decide which one suits your requirements the best. So, here is a list of some of the best villas in Malta that can make your trip better. 
Here is a list of the best Villas in Malta: 
June Ville Villa

June Ville Villa | Heybucketlist
Located in Mellieha – a popular tourist village in the northern Malta region, June Ville Villa has 3 self-contained apartments. The property has spacious rooms with proper ventilation. The rooms are further furnished with excellent quality modern facilities and equipped with all domestic needs. The rooms are air-conditioned (pay according to usage), with bed linen and bath towels. And then there are amenities like Wireless internet, washing machine, TV, and safe deposit box, offered at no extra costs. 
The villa has not had one, two, or even three but boasts five bedrooms. You can rent these as a whole when travelling in a group of 10-12 persons or as individual units for a family of 4-5 members. The guests at June Ville can use the private pool (a children's pool along its side) on the same level as the apartments. You can relax in sun loungers around the pool and just soak in the sun. 
The property has lush greenery and olive, citrus, and palm trees. If you prefer outdoor dining with a glass of wine, there is a charcoal BBQ, umbrellas, and garden furniture.
---
     2. Santa Maria Villa
The villa is situated in Mellieha's residential villa area and should be on your list when looking for villas in Malta to stay. Santa Maria Villa has 1 and 2-bedroom apartments where you can cater to yourself. The villa is close to the main street, with easy access to supermarkets, bus stops, a bakery, catering outlets, pharmacies, and more. You can also explore Comino and Gozo by taking a boat.
The popular beaches in Malta, like Golden Bay, Paradise Bay, Mellieha Bay, Imgiebah Bay, and Ghajn Tuffieha, are just a short distance away from the villa. Going up the streets, you will find yourself surrounded by bars and restaurants, and a church.
The villa has well-ventilated, air-conditioned apartments, a fully-equipped kitchen, a terrace with outside furniture, and sunbeds to let the guests enjoy outdoor dining. Wi-Fi is made available throughout the villa. The communal swimming pool is on the terrace where you can relax with a swim.
---
    3. Hanini – The Holiday Home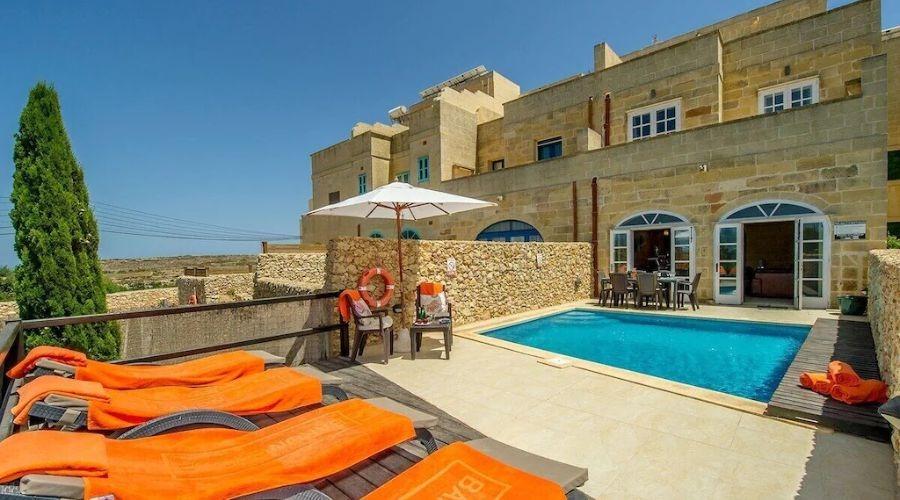 The semi-detached 4-bedroom (a master bedroom, a double bedroom, and two twin bedrooms) villa is newly built with a private pool, air-conditioned rooms, Free Wi-Fi, a garden, and an amazing country sea view. The villa has a traditional style with high standards and is situated beautifully on the periphery of a rustic village. 
Inside the accommodation, all the modern amenities are available, along with a private pool and gardens, giving all the holiday vibes. At one corner of the garden, a BBQ is set up to enjoy the night diners. The sleeping arrangement is made comfortable on two floors for catering to a minimum of 8 adults. The double bedroom has a private terrace from where the spectacular view of the surroundings is clearly visible. The house also boasts table tennis.
---
      4. The Blue House 
Spread over an area of about 2700 sq. ft., this villa is one of the finest villas in Malta. The villa has 4 bedrooms with a capacity for 9-10 people. The ground floor is attached to a terrace featuring a pool. The rooms on the first and second floors are spacious, air-conditioned, and well-furnished, giving an excellent view. 
On the top terrace, an Open Air 4 seater Jacuzzi is added to let you soak in the surroundings to the fullest while getting relaxed. Local amenities like supermarkets, restaurants, bus stops, and others are also not very far.
---
      5. Villa Rossa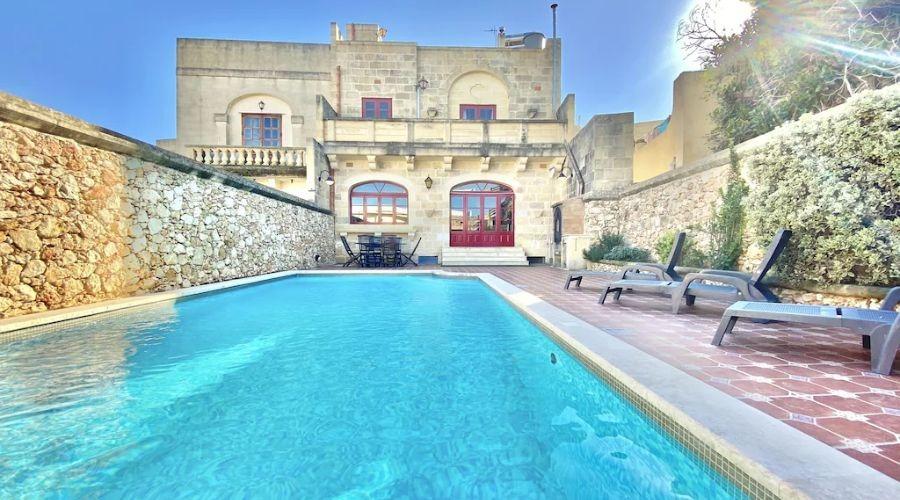 When looking for villas in Malta, do not skip Villa Rossa. It can be your home away from home that you can share with friends and family. Located in the charming village of Xewkija, the villa features 5 fully air–conditioned bedrooms with free access to the Internet, 8 bathrooms, and 5 terraces with stunning city and country views. It also has a pool area with BBQ and an indoor jacuzzi cum spa room. What more could you want to enjoy your vacations? 
The living room has a traditional fireplace where you can sit cosy and enjoy a movie on the smart TV with your loved ones. The fully-equipped open kitchen area lets you cook a hearty meal conveniently.
---
Conclusion 
Above is a short list of the best villas in Malta that can make your Malta trip more enjoyable many more times. Some here are the best sea front villas Malta that don't let you away from the gorgeous blue waters. For more information, go to VRBO and Heybucketlist. 
FAQ's