This stunning island is a tranquil fusion of beach life, arts, and culture. Get a delicious seafood plate for lunch in one of the many coastal restaurants available, stay at beautiful villas in Lanzarote, then top off your tan on Puerto del Carmen's Blue Flag Playa Grande beach while sipping traditional El Grifo wine. There are many sites to discover if you enjoy getting buried in culture while on vacation, such as the island's cactus garden and the chic home of artist César Manrique, which includes a modern art gallery. The volcanic scenery of Timanfaya National Park, which provides day trips and neighborhood tours, is a delight for nature enthusiasts to explore. The island of Lanzarote is a premier vacation destination known for its volcanic skyline, subtropical climate, and stunning beaches. Therefore, Lanzarote won't let you down whether you're trying to kick back and relax. And if that still isn't enough, check out our opulent villas in Lanzarote to satisfy your holiday compulsion.  
Here is a list of the best Villas in Lanzarote: 
1. Luxury 4-bedroom Villa with Sea view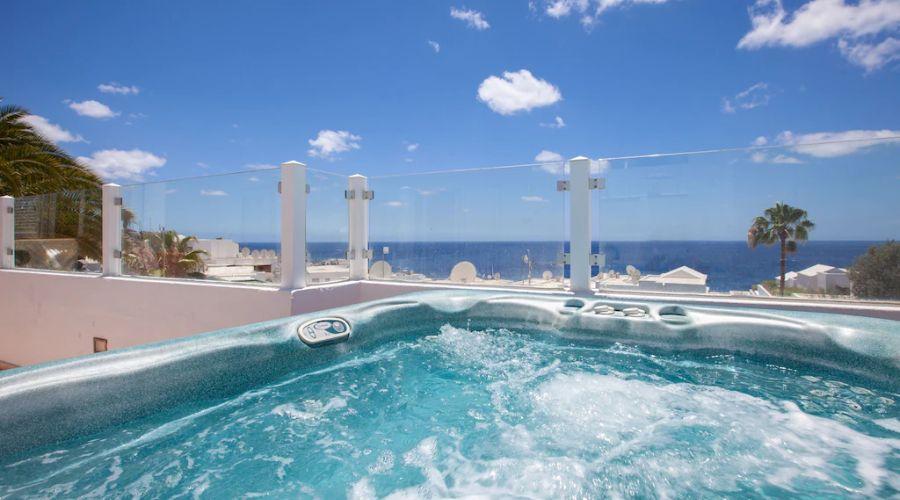 For only $5,517 per night, you may stay in this villa in Puerto del Carmen on your next vacation. This opulent, family-friendly home in a stunning, highly sought-after neighborhood with easy access to the beach and all of your beach necessities with views of the sea and mountains. This place is a luxurious and spotless home to unwind and enjoy your vacation. These villas in Lanzarote are equipped and appointed to the standards, with high-quality furniture and electrical appliances. With a brand-new, high-end air conditioning system, it is air-conditioned. Enjoy the panoramic sea views of the ancient harbor, mountains, and Fuerteventura in the distance from the huge and extensive private terrace/patio with a heated swimming pool and separate, enormous jacuzzi hot tub.
---
2. Private Villa with Mountain Views and a Private Pool
A stunning, classic Spanish villa that has been thoughtfully updated and furnished. It features a contemporary kitchen, a roomy living area with a sofa bed, and four bedrooms that can sleep up to ten people. For families or golfers, the property is perfect. The building was established in serene, private gardens with views of the surrounding countryside. The private garden features an enormous swimming pool, a variety of trees, and patio places for sunbathing. Several country clubs, bars, restaurants, and local grocers are nearby such villas in Lanzarote. A short journey will take you to Valencia, Spain's third-largest city and home to some of the nation's most spectacular architectural designs. Valencia is a flourishing port city. This villa's air-conditioned rooms have fireplaces and private pools. The kitchens include all the necessary appliances, including stovetops, microwaves, cookware, plates, and utensils. Hair dryers and bathtubs or showers are amenities in bathrooms. Rooms also come with coffee/tea makers and safes. An outdoor pool is one of the villa's recreational features.
---
3. Villa with Gorgeous Garden, Sea View, and Pool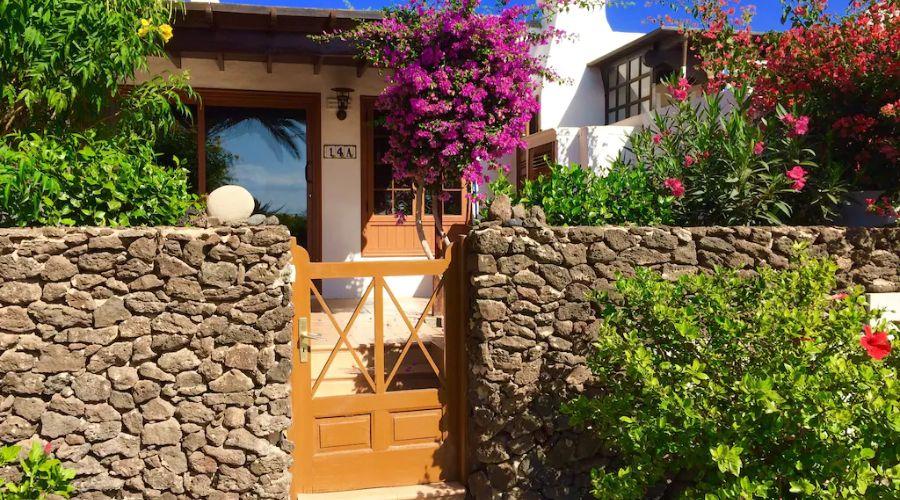 The house is close to the sea in Javea's popular Cap Marti neighborhood. Families, friends, and enjoyment were all considered in the design of the villa and apartment. The garden is gated and fenced-in and is safe for kids. Huge lawns with a view of Montgo Mountain are there. The views of the Atlantic Ocean are breathtaking from this prime Playa Blanca location, which other villas in Lanzarote might not be able to provide. You can also watch the fishing boats bobbing in the water. With the option of an additional single bed, the main villa's three bedrooms may accommodate six people. A separate private apartment can accommodate four people. It takes only five minutes to drive there or twenty minutes to walk there to reach the well-known Arenal Beach and promenade with its wide variety of bars and restaurants.
---
4.  Family Villa with heated pool and private parking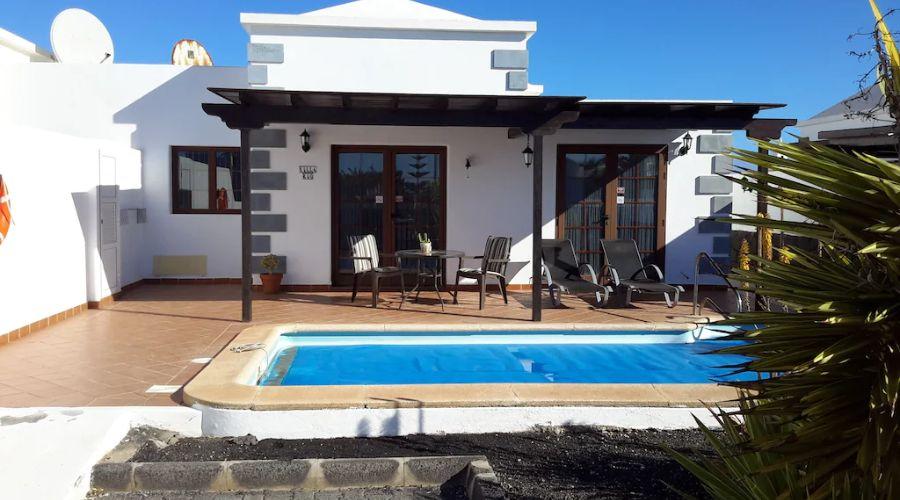 This charming vacation home offers the best lodging at a very reasonable price in a tranquil location 1.5 km from the resort's hub. Along the seaside promenade are many pubs and restaurants, duty-free shops, apparel stores, toy stores, and neighboring villas in Lanzarote. It may be found in the Parque del Rey neighborhood. All of the contemporary appliances are installed in the open-concept kitchen. A double and twin bedroom with plenty of storage, make up the sleeping quarters. The gorgeously tiled bathroom has a walk-in shower and extra handholds available upon request. The dining area has four place settings and is accessible from the lounge. A grill area and lots of room outside for loungers and seating on the terrace, which offers plenty of shade. There is a ramp available in the property's vehicle park when needed. This superb condo just like other family-friendly villas in Lanzarote is perfectly priced to fit most budgets. It has plenty of space and is located in a peaceful area.
---
5. Private Garden Villa with a view of the bay of Arrieta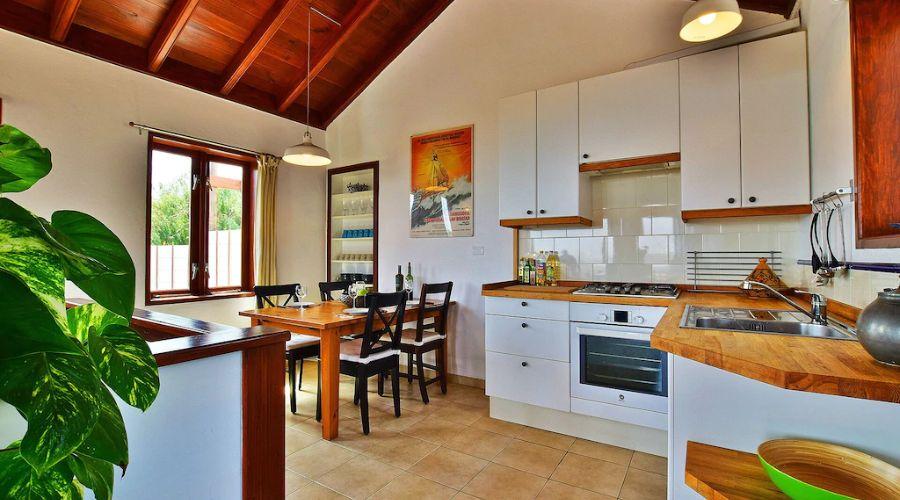 A charming compact house with a smart upside-down design is perfectly situated in the north. You may take advantage of these villas in Lanzarote by experiencing all elements of the weather at all times of the day thanks to the sunken garden with BBQ, mid-level, and outdoor veranda. Whatever your intentions and plans are for your visit, having breakfast on the upper veranda each morning was a wonderful way to start the day. The garden, which is set up on various levels, is very secluded and has plenty of room for sunbathing and shaded seating. A charming strolling area that has long been a protected landscape, Tabayesco is a little settlement located at the base of the Temisa Valley. A grocery, several shops, a diving center, and a wide selection of excellent restaurants nearby the village of Arrieta. The place gives a panoramic view of the Bay of Arrieta making the villa more serene for a soothing vacation and also one of the cheap villas in Lanzarote.
---
Conclusion 
You can find all the information here that would help you choose Villas in Lanzarote if you are planning to visit the place and are looking to stay at one of them. The Resorts listed in this article provide a pleasant and comfortable stay throughout the trip and are regarded as the  
FAQ's