Cyprus is a popular tourist destination. Cyprus is an island renowned for its incredible natural splendour and great history, and the villas in Cyprus are the ideal spot to enjoy your holidays. With stunning buildings, chic interiors, and breathtaking surroundings, the villas in Cyprus offer an unforgettable experience. Whether you're seeking a tranquil villa or a luxurious villa, the villas in Cyprus are crafted to make your stay exceptional. This article contains all the information you need about the outstanding villas in Cyprus.
The top 5 villas in Cyprus
Stunning Three Bed Villa With Private Pool

Stunning Three Bed Villa With Private Pool | Heybucketlist
This magnificent three-bedroom villa boasts a private swimming pool to ensure a serene and delightful stay. Patrick MacMaster, a distinguished host, hosts the villa. It is one of the best villas in Cyprus as it is generously proportioned and fully equipped, covering a total area of 1249 square feet. It comprises three bedrooms and five beds, comfortably accommodating up to six guests. The property features three bathrooms and one additional toilet for guests. The living room is warm and inviting, with a terrace and dining area for outdoor relaxation. It is a sea front villa in Cyprus as the beaches such as Ayia Thekla, Landra, Macronissis, and Nissi are nearby. The outdoor amenities include a private swimming pool with sun loungers, a covered pergola area for shade, a barbecue, landscaped garden, and an outdoor shower. Inside, the villa offers a range of amenities, including air conditioning, satellite TV, DVD player, stereo, games console, and wireless internet. The cancellation policy allows for a full refund if cancelled at least thirty days before check-in, a fifty per cent refund (excluding service fee) if cancelled at least fourteen days before check-in, and no refund if cancelled less than fourteen days before check-in.
     2. Villa Sara
The Villa Sara is one of the luxury villas in Cyprus. The villa boasts 2 bedrooms and can comfortably accommodate up to 4 guests. The property boasts a fully equipped kitchen, an airy open-plan living area with a lounge/diner, a bathroom, and a private garden. Additionally, the villa provides fast WIFI, top-notch TV with Sky channels, Sky Sports, BT Sports, Sky Movies, and Box sets, along with a Movie Club featuring the latest releases. The villa's proximity to the sea, just 60 meters away, makes beach access a breeze. Nestled between the charming Polis town and the stunning Latchi harbour, the location is ideal for sun-drenched self-catering holidays all year round. Mr Peter Franklin hosts Villa Sara. He ensures guests have a private and pleasurable stay. The villa is commonly said as one of the best villas in Cyprus by the guests. The cancellation policy of the villa permits a 100% refund if cancelled at least 30 days before check-in, and the house rules prohibit pets, smoking, and a maximum of 4 guests.
      3. Villa Sunset Point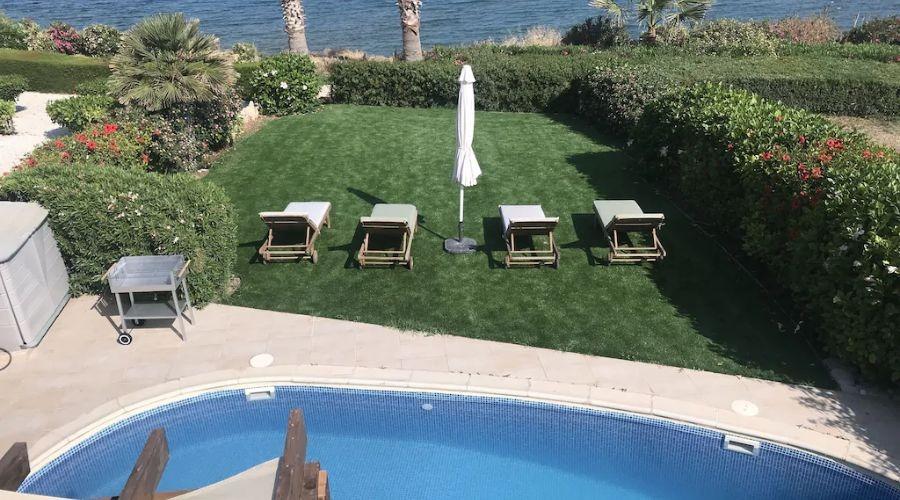 The Sunset Point villa boasts a private pool and is situated and provides a lavish and romantic escape or a family vacation. The villa showcases exquisitely designed Mediterranean gardens, a private pool with sea views, a covered outdoor dining area, sun loungers, and a large artificial grass lawn, ideal for families with young children. The interior of this one of the best villas in Cyprus features an open plan living, dining, and kitchen area with high-end finishes, air conditioning, a 55-inch Smart TV, a DVD player, and 24-hour movie access via satellite. Additionally, the villa has two bathrooms and a master bedroom that offers a breathtaking view of the sea from the bed. The kitchen is fully furnished with essential appliances, and off-road parking is available. The villa is conveniently located within walking distance of local taverns, shops, restaurants, and beaches and is just a 7-minute drive from Coral Bay village. Lisa, the host, is a Premier Host, and the property adheres to strict cleaning protocols, including the disinfection of high-touch surfaces and following regional COVID-19 health guidelines.
      4. Villa Alasia
The Villa Alasia is one of the best villas in Cyprus that you will find. It is conveniently situated just 75m from the shore in Argaka Bay, Cyprus. The villa presents four ensuite bedrooms, accommodating eight guests and possibly accommodating additional infants. The spacious living room/dining area showcases a cosy four-piece suite, stone hearth, and flat-screen satellite TV. The fully furnished kitchen comprises a gas hob, dishwasher, and microwave. Externally, there is a secluded swimming pool, sun loungers, poolside dining area, billiards, table tennis, and an extensive stone BBQ for open-air dining. The upper level encompasses two vast verandas with sweeping sea views. The immaculate beach, local tavernas, and amenities are within strolling distance. The villa is ideal for gatherings of companions or families seeking a serene and lavish vacation in Cyprus. The guests who stayed at this villa have submitted great reviews. Villa Alasia stands out for its comforting ambience that makes you feel at home.
       5. Ideally Located Villa with South Facing Private Pool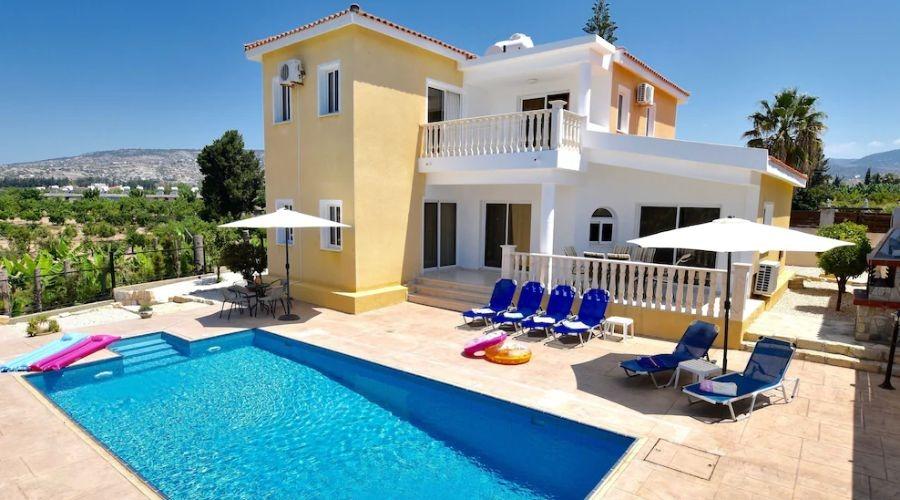 The villa is one of the best villas in Cyprus as it is compact and affordable. Karen Turner hosts it. The villa boasts an ideal location in Coral Bay, Paphos, Cyprus. The villa has basic facilities such as a private pool, air conditioning, TV, and WiFi. The villa also boasts luxurious bathrooms in all bedrooms, spacious balconies with double patio doors, and a built-in barbecue by the pool. The "Blue Flag" sandy beach at Coral Bay is just ten minutes away, while supermarkets, restaurants, and bars are within 100 meters. The lively Resort Centre of Coral Bay is a brief 15-minute stroll, offering many amenities. The villa is fully air-conditioned and is perfect for a family vacation or a group of friends. Please note that air conditioning must be paid for locally.
Conclusion
In conclusion, the villas in Cyprus provide various amenities for a comfortable stay. With more lodging options, you might need help choosing the best one. The villas mentioned in this article have the best infrastructure and ensure a pleasant stay. For more information, visit VRBO and the official website of Heybucketlist.
FAQ's