With its beautiful beaches and Venetian charm, Corfu admirably balances tradition and modernity. And visitors to this Greek gem should anticipate a flurry of entertainment, with options for everyone from families to couples to traveling companions. Any unforgettable vacation must undoubtedly start with a jaw-droppingly fantastic villa, and Villas in Corfu are nothing short of extraordinary. To appreciate everything Corfu has, go away from the tourists and explore a little deeper. Luxury villas in Corfu, one of the most sought-after islands for international travelers for decades now, are also one of the attractions of the area, with the majority of properties hidden within rolling hills of olive and pine trees and offering direct views of the sea, another reason to choose this diversified island for your summer vacation. We have gone over our portfolio to present you with the villas in Corfu that will take your breath away with their flawless charms and send you into a swirl of self-pampering moments and complete refreshments. This will help you make an informed decision from the thousands of villas in Corfu available.
Here is a list of the 5 Best Villas in Corfu: 
1. Villa Marianthi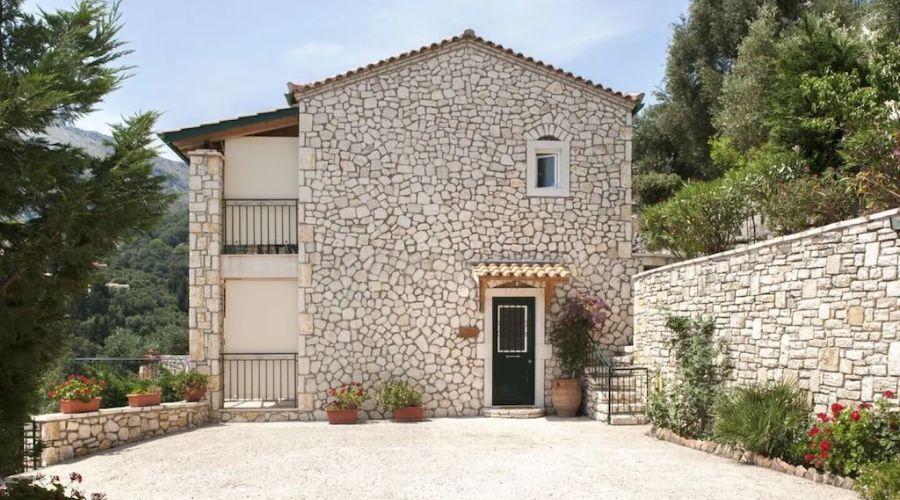 Nissaki's Villa Marianthi is a brand-new villa with a classic stone facade and contemporary, large interiors. A good number of guests can sleep there. While the built-in BBQ and outdoor sitting/dining area will provide you with lots of memories to treasure, the private pool and terrace provide breathtaking views. These hillside villas in Corfu provide a refuge from beaches and busy streets, with the bonus of mountain breezes. It has an open-floor concept across two floors. A furnished, shaded balcony with stunning views of the east coast, Corfu Town, and the surrounding area on the ground level. The top floor comprises a double bedroom and a twin bedroom, which have en suite bathrooms and French doors that open onto a furnished, shaded balcony. The views from this elevation can only be characterized as commanding. The property also features free WiFi, air conditioning, a cot, and a high chair. For your convenience, they also offer a car rental service.
2. Thresher's House
For those wanting a slower, more tranquil pace, this historic stone-built cottage offers breathtaking panoramas and lovely private grounds. The attraction of these villas in Corfu is the attention to detail throughout, with antiques and vaulted ceilings lending a unique character to the atmosphere. It is well-appointed above the hamlet of Porta and surrounded by vegetation. The house has a sizable veranda in the front. With a square table and many pots of flowers and herbs, this location is ideal for lunches in the shade. The living room's double French windows let in light and provide a feeling of openness. Comfortable couches around the fireplace and dainty lace curtains that let in sunlight accentuate the magnificent dining space. A double bedroom with a fireplace, flowery curtains, and bedclothes is also available. 
3. Stone Villa with Private Pool 
It is a meticulously restored natural stone villa between grassy meadows, terraced olive groves, and maritime pine trees. The property has a terraced patio with lovely ancient wisteria. Intense tranquility, summer breezes, lavender aroma, and peace can all be found here. Some family heirlooms are included in the home's white-washed, minimalist design. You will find an incredible private detached stone home with a pool facing stunning panoramic views of green mountains, rolling hills, and cypress trees tucked away in the charming valley of Afra village. Including big modern décor, a view of the charming harbor, and proximity to the beach. Local stonework that was gathered and created by the beautiful owners themselves is incorporated into the building's architecture. While offering every modern comfort to visitors, the facility maintains a careful adherence to the traditions of the island's design. The stylish infinity pool and the shady outside terrace make this opulent property a perfect choice for anyone looking for ambiance. 
4. Modern Villa with Exquisite Amenities
Escape to paradise and stay at Telia Thea, a gorgeous newly constructed villa on Corfu's alluring northeastern coast. This stunning residence offers cutting-edge amenities and breathtaking sea views, giving it the ideal location for a tranquil and restful getaway. The villa has a private pool with lounge chairs and umbrellas so you can relax in the sun and take in the breathtaking sea views. The built-in BBQ allows for both inside and outdoor dining; alternatively, you can stay inside and use the open-plan living, dining, and kitchen space. Modern cooking appliances are all present, and the living space is set up for relaxation and taking in the amazing view. The main double bedroom on Telia Thea opens to a patio and two pleasant twin bedrooms. The shower's polished marble tiles provide an opulent touch to the overall atmosphere. With their roomy interiors and huge windows that let in plenty of natural light and foster a tranquil and relaxing ambiance, these exquisite villas in Corfu are built to offer maximum comfort and relaxation. The property, with all modern conveniences, also has a heated pool on its spacious green terrace.
5. Villa with seashore and Pool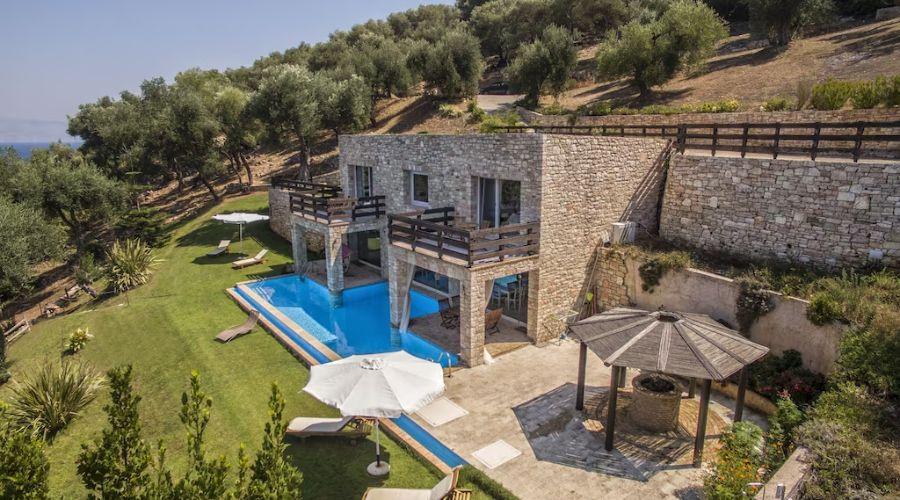 This sea front villa in Corfu, only a few meters from the beach, is the ideal location for a vacation. Additionally, the well-known resorts of Kassiopi are conveniently close by and provide a wealth of amenities right outside your door. You must visit some of the neighborhood taverns. You will feel completely at ease in these opulent comfy interiors and tasteful color palette because it is equipped as your home away from home. The villa is a two-story home that was constructed using local stone to mix well with the surroundings. On the first floor of the home are two double bedrooms with en suite bathrooms. Both are similarly roomy and pleasant, and the fact that the en-suite bathrooms are on a different level from the main living space enhances the solitude they provide. Each bedroom also features a balcony with views of the sea and the pool area. A large terrace on the bottom level with views of the sea into two different dining rooms, a kitchen, and a lounging space separated from the pool by a glass panel. A brick-built BBQ is also available outside next to the pool.
Conclusion 
You can find all the information here that would help you choose Villas in Corfu if you are planning to visit the place and are looking to stay at one of them. The Resorts listed in this article provide a pleasant and comfortable stay throughout the trip and are regarded as luxury villas in Corfu. Read more on VRBO and Heybucketlist. 
FAQ's