The Algarve, Portugal, is known for its Atlantic beaches and golf resorts. It has famous cliff-backed beaches, delectable seafood, and charming villas in Algarve.
There are many excursions available in the Algarve for families wishing to experience the area's more natural side, including several activities that offer boat tours to see the dolphins from Lagos, Portimao, and Alvor. 
Additionally, the area is incredibly relaxing and accommodating to all different types of tourists.
While it's simple to board a plane and fly somewhere for a week (or weekend), you can get more out of your trip by planning and learning a few local customs before you go. Here is our list of the best villas in Algarve.  
---
Here is a list of the best Villas in Algarve: 
Pretty Villa in Monchique

Pretty Villa in Monchique  | heybucketlist
This charming and exotic name on our list of villas in Algarve is located in a special, quiet, and isolated area with stunning views of the mountains and an ocean.
This villa features one double bedroom with an ensuite bathroom and toilet, a living room, a wood stove and a fully equipped kitchen.
Other amenities include a flat-screen TV, free WIFI, games, a heater, a washing machine etc.
This property and its pool are settled away in a wooded park where the ALGARVE's native trees and bushes bloom.
The village of Monchique, which is 460 metres above sea level, offers views of the ocean, crystal-clear rivers that flow down the rocks, orchards, and market gardens on the terrace.
The nearby attractions are: 
Monchique Biopark< 0.1 km
Nossa Senhora do Desterro Convent- 1.1 km
Loja do Mel e do Medronho- 1.2 km
Igreja Matriz- 1.1 km
Misericordia de Monchique Church- 1.2 km
Alferce- 1.4 km
Foia Mountain- 2.6 km
Monchique Thermal Springs- 3.1 km
Picota Peak- 3.2 km
Mina Park- 6.6 km
Algarve International Autodrome Raceway- 10.6 km
---
2. Villa T3 Cabanas – Quinta Velha Resort  
This one of the premium villas in Algarve is located at Conceicao e Cabanas de Tavira in Faro District. 
This property features three bedrooms (two twin bedrooms and one double bedroom), two bathrooms, a living room, and a kitchen.
The bedroom and living room are fully equipped with an air conditioner, TV and other required essentials.
The bathroom comprises all the upgraded products.
The kitchen has all the required amenities such as a washing machine, dishwasher, refrigerator, stove, and microwave.
Other amenities include free wifi, a wood stove, a heater, an iron & board etc.
Visitors even have access to its swimming pool and spa. 
The nearby attractions are: 
Ria Formosa Natural Park-0.2 km
Cabanas Beach- 1.1 km
Quinta de Cima Golf Course- 3.6 km
Quinta da Ria Golf Course- 3.7 km
Ilha de Tavira Beach- 3.3 km
Praca da Republica- 4.6 km
Tavira Castle- 4.7 km
Mother Church of Santa Maria do Castelo- 4.8 km
Cacela Velha Beach- 3.8 km
Barril Beach- 2.8 km
Manta Rota Beach- 6.9 km
Praia da Lota- 8.2 km
---
3. Luxury 8-bedroom Villa Bella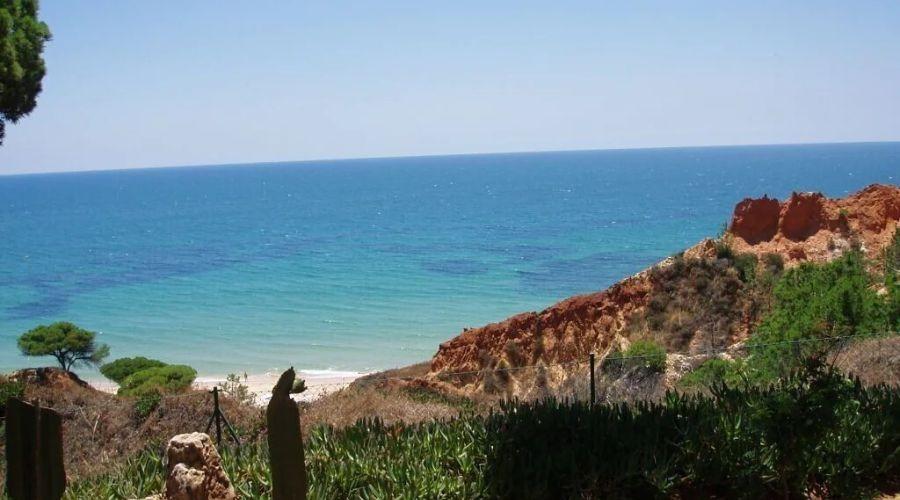 This sea front villa in Algarve is located in the middle of the new town and old town of Forte Sao Joao.
This spacious home is ideal for large families or parties seeking a peaceful environment with ample entertainment room.
This property offers eight bedrooms with ensuite facilities, Living space, a terrace and a balcony.
The eight bedrooms comprise four twin beds-bedrooms, three double bed bedrooms and one triple bed bedroom. Each room has an ensuite bathroom.
The living room contains multiple sofas, which can accommodate 17 people comfortably in addition to an indoor dining area. It also provides a fully equipped kitchen with all the required essentials.
Both the bedrooms and living room are installed with AC and TV with satellite channels
Outside activities include golf courses, tennis and water sports.
Pine Cliffs, Gale, and Guia (where Algarve shopping is located with a supermarket, many shops offering clothes, shoes, and sports equipment, and a large cinema with all the current films in English), as well as Quinta, do Lago, are all within a short drive of the property. The best golf courses, lovely restaurants, and a supermarket are all close to the property.
---
4. Charming Cristina House  
Among the top villas in Algarve, the Cristina house is located just 20 metres from the Pescadores beach.
The 100m2 home has two bedrooms, two bathrooms, and a third outdoor shower for when you return from the beach.
A large garden, a barbecue, an outdoor sink,
A modern kitchen- where you can prepare meals, which is fully equipped, 
The living room- has a convertible sofa. The home is ideal for six people, though it can accommodate eight people.
Other necessary amenities are free unlimited WIFI, a TV with over 100 channels, Chauffeur facilities and many more.
At a 50 km radius, you can get access to Beaches, restaurants, nightclubs, shopping centres, supermarkets, hypermarkets, diving excursions, cave visits, Aqualand, Slide and Splash, Zoomarine, Parque Aventura, Quad Adventure, Zoo Lagos as well as a variety of other sports and water activities are all within proximity.
---
5. Charming villa, with a beautiful sea view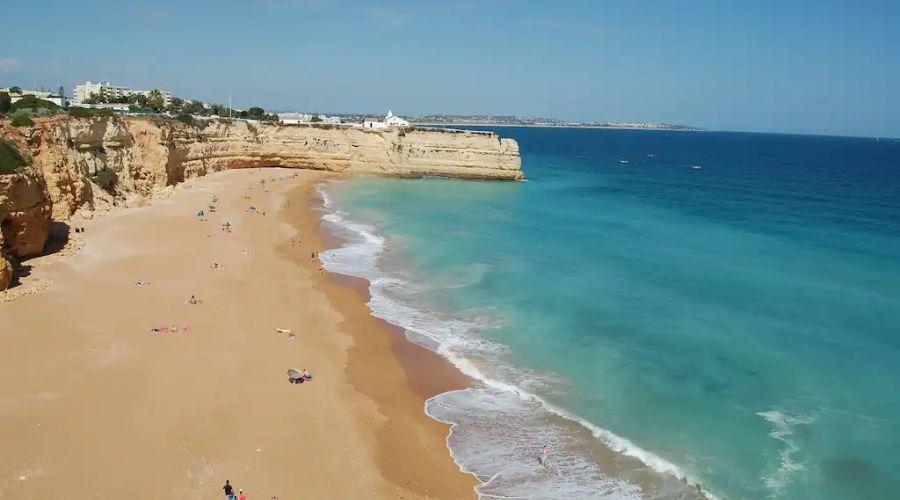 The property located at Alporchinhos, Lagoa with unobstructed sea views is among the luxury villas in Algarve at a very affordable price. It even offers 24-hour continuous service to its guests.
The property features 1 bedroom, 1 bathroom, living room, kitchen and a terrace.
The bedroom has ensuite facilities.
The kitchen has all the requirements such as a dishwasher, washing machine, kitchen cutlery, refrigerator, coffee maker, microwave and many more.
The property also offers 3 seawater pools with one heated pool, a children's small swimming pool and playground, and 3 tennis courts.
Nearby places include
Mini supermarket 100 m, 
Inter marché supermarket 700 m, 
restaurant 100 m, 
super sandy beach 100 m, 
golf course 6 km.
Shuttle service to Armacao de Pera 2km
---
Conclusion 
The detailed explanation of the five most famous villas in Algarve gives you information about the accommodations, location, facilities, services and many more. The suggested accommodations are great for families, and friends to get their best vacation experiences. Read more on VRBO and Heybucketlist.
---
FAQ's