Discover the world of skiing at the best ski resorts on East Coast, brought to you by VRBO. The winter wonderland of the East Coast beckons to the thrill-seeker, with picturesque landscapes that dazzle the eye, a wealth of diversions to captivate the mind, and an array of ski resorts that rank among the most elite in the nation.
The prime time to visit the best East Coast ski resorts is during winter when the slopes are blanketed in pristine snow and the conditions are optimal for carving through powder. VRBO presents a plethora of vacation rentals, perfectly poised in proximity to these lauded resorts, guaranteeing a cosy journey for all winter sports enthusiasts. 
Whether you're seeking thrilling runs, stunning mountain vistas, or a cosy lodge atmosphere, the best East Coast ski resorts have it all. Allow VRBO to lead you on an exhilarating ski expedition, where you can submerge yourself in the magnificence of the east coast's winter wonderland and forge enduring memories on the slopes.
The best East Coast ski resorts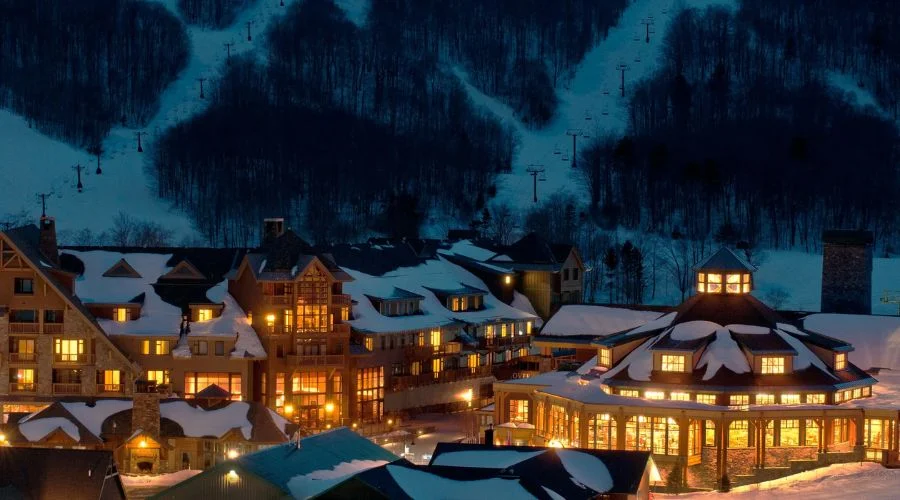 For those seeking East Coast ski havens, gaze no further than Vermont, New Hampshire, and Maine. Vermont's Green Mountains metamorphose into a snowy utopia, boasting various ski resorts with runs galore. Bretton Woods in New Hampshire and Sugarloaf in Maine have also favoured hotspots for ski enthusiasts.
1.Vermont
Vermont, in particular, takes centre stage as a family-friendly ski destination. Okemo Mountain, consistently ranked among the best East Coast ski resorts, provides excellent skiing opportunities for all skill levels. Parents can conquer the challenging slopes while their kids delight in the gentle nursery slopes. VRBO provides a diverse selection of lodgings, from mountain chalets to stylish apartments and rustic log cabins, for an unforgettable stay with breathtaking views and luxurious hot tubs. 
2.New Hampshire and Maine
Embarking on a journey to the northern regions of New Hampshire and Maine, one will unearth Bretton Woods Mountain Resort, the ultimate ski haven that the state has to offer. The resort pledges an electrifying escapade with its unfailing snow conditions and 62 trails, all serviced by ten lifts. In the depths of Maine lies Sugarloaf, a remote location sure to amaze visitors with its extensive terrain spanning over 1,240 acres and an average annual snowfall of 200 feet. Both resorts boast a diverse range of vacation rentals, perfect for enchanting romantic getaways or family vacations in a mesmerising winter wonderland.
3.Colorado 
For serious skiing coupled with an exciting après-ski scene, visiting Colorado is an absolute must. Home to the Rockies, Colorado boasts some of the best skiing conditions in the country and iconic resorts like Vail and Aspen. Breckenridge, in particular, caters to skiers of all levels and is a favourite among families and groups. With its base elevation of 9,600 feet and the highest lift in North America on Peak 8, Breckenridge offers an exceptional skiing experience. The charming historic mining town at its heart gives a welcoming atmosphere and a variety of the best East Coast ski resorts. 
4.Aspen
Aspen, revered as one of the most illustrious ski resorts in the nation, flaunts a lively notoriety and magnetises a posh clientele. Although Aspen may be steep, its four mountains proffer a plethora of topographies suitable for all levels of expertise. Buttermilk and Snowmass Mountains cater to families and novices, while Aspen Mountain and Aspen Highlands furnish an arduous test for connoisseurs.
A guide for ski enthusiasts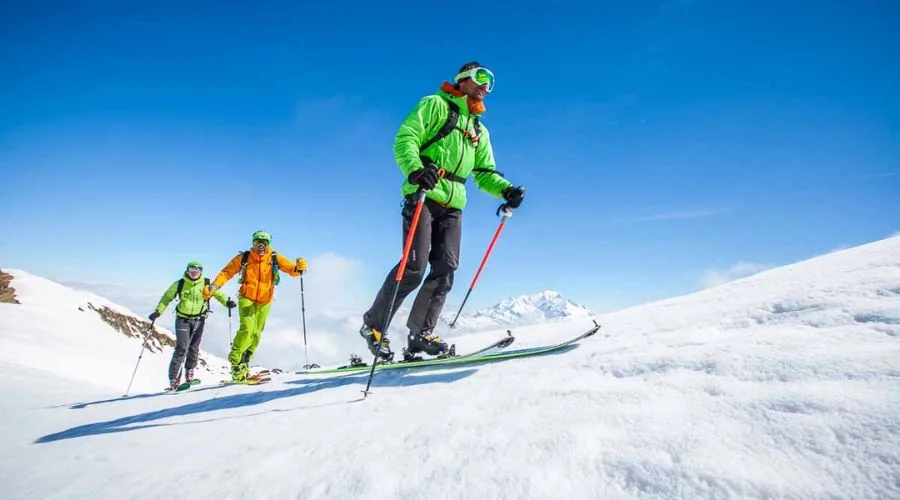 When exploring the East Coast, various undertakings await those who dare to seek them out. Behold, a list of the finest and most thrilling escapades to be experienced in the vicinity:
1.Snowboarding and Tubing
Should skiing not tickle your fancy, why not venture into the world of snowboarding? It's an exhilarating alternative that fuses the excitement of surfing with the agility of skateboarding. Additionally, many ski resorts offer tubing, where you can slide down slopes on inflatable tubes for a fun-filled experience.
2.Après-Ski Activities
After a day on the slopes, unwind and enjoy the après-ski scene. Many ski resorts offer cosy lodges, bars, and restaurants where you can relax, socialise, and indulge in delicious food and drinks.
3.Snowmobiling
Experience the thrill of zooming through snowy landscapes on a snowmobile. Guided tours are available at various resorts, allowing you to explore scenic trails and enjoy the adrenaline rush.
4.Ice Skating
Lace-up your skates and hit the ice at local outdoor ice rinks. 
5.Winter Festivals and Events
Check out the vibrant winter festivals and events that take place in many East Coast destinations. From ice sculpture competitions to holiday markets and fireworks displays, there's always something exciting happening during the winter months.
6.Spa and Wellness Retreats
Treat yourself to some relaxation and rejuvenation at a spa or wellness retreat. Unwind with soothing massages, hot tubs, saunas, and other wellness treatments, providing a perfect complement to your ski vacation.
Conclusion 
From the stunning slopes of Vermont to the majestic peaks of New Hampshire and the charming trails of Maine, there are the best East Coast ski resorts that cater to all levels of expertise. VRBO provides a wide range of vacation rentals near these renowned resorts, ensuring a comfortable and convenient stay. Whether you're seeking thrilling runs, breathtaking mountain vistas, or a cosy lodge atmosphere, the best East Coast ski resorts have it all. Immerse yourself in the beauty of the East Coast's winter wonderland and create unforgettable memories on the slopes. For more information, visit Heybucketlist. 
FAQs