Costa Rica is a famous destination in North and South America. It acts as a connecting bridge between the two continents. This place is known for its tropical beaches and soaring volcanoes. In Costa Rica, each day is never the same; one day, you can climb through cloud forests, and the next, you might explore secret valleys. Additionally, you can access national parks, wildlife refuges, and environment reserves because 25% of the country is under protection. There is a range of options for visitors to houses in Costa Rica, like guest houses,  apartments, and villas which can be booked during your holidays. This article will discuss the five most famous houses in Costa Rica.
There are also houses for sale in Costa Rica if you want to make a home here! 
Top Houses in Costa Rica
1. Villa La Loma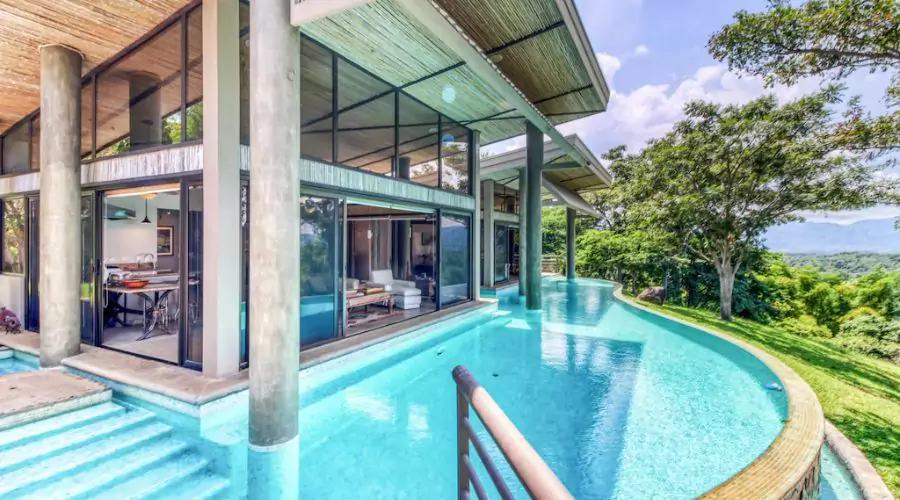 The Villa La Loma from our list of houses in Costa Rica offers a 360-degree view of the mountains, the ocean, and stunning sunsets, just a few kilometres from Jacó, Manuel Antonio National Park, crocodile viewing in Tárcoles, and world-class sport fishing. Spend your days swimming in the pool that surrounds the terrace and your evenings cooking up a storm in the open kitchen with your loved ones. Even macaws and monkeys may be seen from the pool and the inside rooms.
The amenities include free wifi, a gated community, and a well-equipped kitchen with a fridge, stove and microwave.
The visitors can explore nearby places such as La Loma, a secondary forest with beautiful trees (including cedar, oak, and ceibo) – which gives spectacular sites for bird-watching, meditation, working out, or just relaxing. Jacó Beach gives excellent experience in surfing.
---
2. Casa Olas Azul
Another masterpiece on our list of houses in Costa Rica is Casa Olas Azul, a fully equipped villa on 2 private acres in safe Costa Verde Estates. A contemporary villa with all the amenities, a two-bedroom, two-bathroom home is filled with wildlife. It is situated in a lush, colourful cloud forest over 1,400 feet above sea level.
At Casa Olas Azul, plan to spend lots of time outside. The weather is ideal for hanging around on the poolside lounge chairs and grilling some fresh seafood, and the infinity pool is stunning. A planted tropical garden also highlights the vegetation in the backyard.
The amenities include a fully equipped modern kitchen, two sofas, a tv screen, a DVD player, wifi, laundry etc.
Guests even get access to an outdoor tennis court, a workout room, a large outdoor picnic area, and a helicopter pad in case of medical emergencies.
---
3. Beach Front Paradise!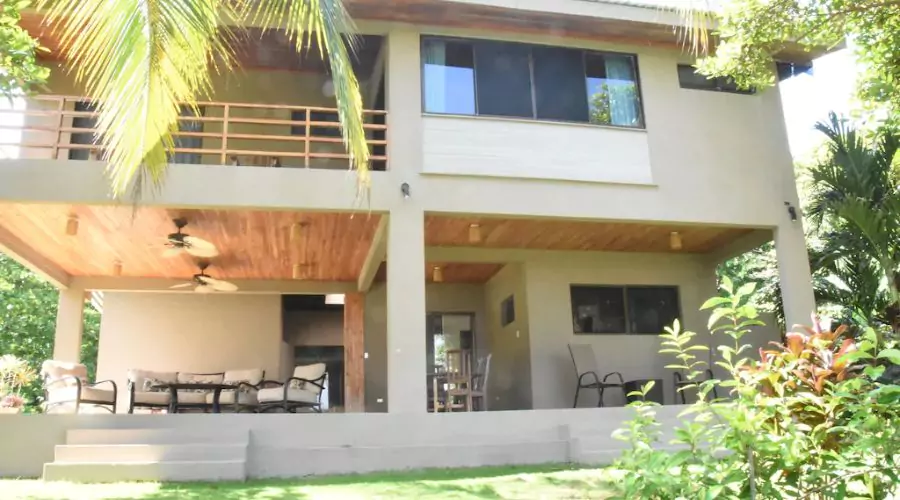 Want to experience a private beach? Then should go with this exotic Beachfront paradise, one of the best houses in Costa Rica. You can get all the vibes of a private beach, surf, horse ride, explore butterfly park and have many more magical experiences. 
The other sports activities such as zipline, sport fishing, ocean safaris to get an eye capture of whales and dolphins, Ocean Kayaking, Snorkeling, Scuba Diving and more.
This property includes four bedrooms and 3 bathrooms, along with a living room and a well-equipped kitchen.
---
4. Bali Style Villa
This stunning Bali Style Villa is situated at the top of a mountain ridge on 2 acres about a mile outside of Athenas, covered by the lush tropical reserve, home to parrots, toucans, sloths and monkeys. One can work remotely to enjoy both outdoor and indoor experiences. Our custom-built Bali-style home was planned to utilise our property's breathtaking views and old-growth trees fully. 
The weather enhances more of its beauty, the morning being warm and the night being chilled. It's also considered the best climate as per the national geographic. This villa facilitates 3 bedrooms with an ensuite bathroom, a well-equipped kitchen and dining room, private solar-heated swimming pool with an outdoor gourmet kitchen. 
Visitors can explore nearby cloud forests, Costa Rica's dense jungles, take a catamaran to a private island, or even deep sea fishing are just a few of the many activities available there. The sports activities include white water rafting, zip lines, ATV riding or jet skiing in the open ocean. Alternatively, you might simply stay at the villa, get a massage, disconnect from the fast-paced world, and rediscover nature's wonders.
---
5. Casa Colibrí Esmeralda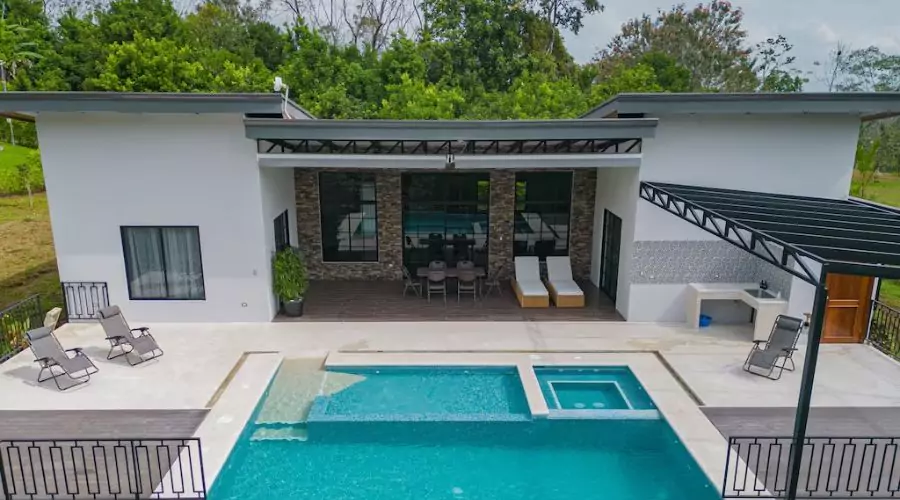 This pet-friendly villa, one of the top houses in Costa Rica, has two bedrooms and three bathrooms, with a living room and dining space. Everything you could want to do is within easy reach, including eco-tours, water skiing, and more. You can simply drive to La Fortuna Waterfall in 9 minutes. You can enjoy it in a heated pool or enjoy a beverage in the garden. You might also enjoy the deck, patio, and outdoor furniture. The inside scenery can blow anyone's mind. The other amenities include free WiFi, TV, a well-equipped kitchen, upgraded bathroom products, a BBQ grill and many more.
---
Conclusion
These are the recommended choices for those looking for luxurious houses in Costa Rica. The best house has been suggested to all the visitors who want to experience the best part of life. The houses in Costa Rica discussed above belong in a prime area, covering all nearby places. In this article, we have discussed five Hotels in detail, which will help you know about the accommodation location, rooms, and facilities. You can also look for cheap houses for sale in Costa Rica on the beach on VRBO's website. Read more on VRBO and the official website of Heybucketlist.
FAQ's