The dynamic country of Luxembourg, located in the centre of Europe, gives visitors a memorable experience with its alluring fusion of tradition, modernity, and culture. These hotels provide a wide range of magnificent lodging options, from the picturesque streets of Luxembourg City to spectacular views of the surrounding countryside. Luxembourg provides elegance at every turn, with the best services, gastronomy, and spectacular vistas for the discriminating tourist. Cheap hotels in Luxembourg can provide convenience, comfort, and a warm welcome to tourists on a tight budget. The nation of fairy-tale castles and lush surroundings, Luxembourg, beckons you to explore its riches. The variety of hotels in Luxembourg guarantees that your trip will be as memorable as the country itself, whether you're in town for business, pleasure, or a combination of the two. Let your wanderlust lead you through this amazing place's pages, and know that your home away from home is waiting to receive you with open arms.
Here are Some of The Best Hotels in Luxembourg
1. Résidence du Lys – Perrin Apartments
The Luxembourg City Center's Résidence du Lys – Perrin Apartments provide a distinctive blend of contemporary comfort and warm charm. It offers a handy starting point for visitors looking to experience the city's rich cultural legacy and dynamic urban landscape with an 8.2 (Very Good) rating. The hotel provides adaptable lodging with contemporary conveniences and a kitchenette, offering enough room for both brief and extended visits. Families and individuals may unwind and rejuvenate in the roomy living space. Visitors may experience the local way of life thanks to the accessibility of the area's eateries, cafés, stores, and cultural sites. A comfortable and enjoyable stay is guaranteed at Résidence du Lys – Perrin Apartments by the accommodating and knowledgeable personnel. Through their Booking.com website, customers can easily make reservations.
---
2. Mandarina Hotel Luxembourg Airport
The Mandarina Hotel Luxembourg Airport is a reasonably priced hotel that is ideally situated 500 metres from Luxembourg Findel Airport and 15 minutes from the city core and railway station. Free airport shuttle service, a 24-hour front desk, air-conditioned rooms with private bathrooms, a restaurant with a changing menu, a bar, free Wi-Fi, private outdoor parking, and two conference rooms with all the necessary equipment are all provided. Customers have appreciated the hotel's convenient location, warm service, fantastic value for the money, spotless rooms, and delicious breakfast. For travellers on business trips and those with brief layovers, it's a fantastic choice.
---
3. Sofitel Luxembourg Le Grand Ducal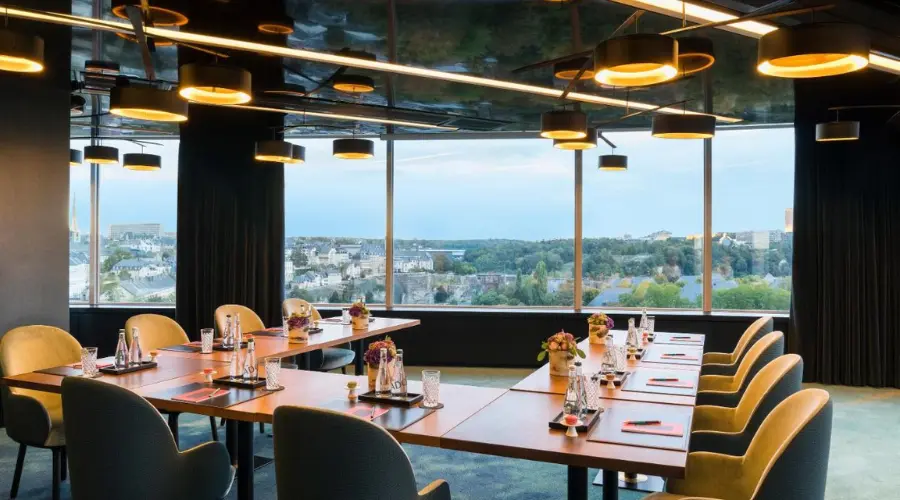 A 5-star hotel in Luxembourg City, the Sofitel Luxembourg Le Grand Ducal offers breathtaking views of the Pétrusse Valley and Old Town. With 192 roomy suites and rooms, Sofitel's renowned MyBed, a sizable work desk and a private bathroom with a rain shower are available to visitors. Free Wi-Fi, a 24-hour fitness centre, and a rooftop bar offer visitors sweeping city views. The hotel also has two dining options, Mu and L'Observatoire, as well as a lounge and bar. As a member of the AccorHotels family, the hotel provides a number of amenities, such as conference and event space, round-the-clock room service, laundry and dry cleaning, and valet parking.
---
4. NH Luxembourg
The NH Luxembourg is a 4-star hotel conveniently located near Luxembourg International Airport, the city centre, and the Kirchberg business district. It offers 149 soundproof rooms and suites, free Wi-Fi, a restaurant with a buffet breakfast and à la carte dining, a bar with an outdoor terrace, a fitness centre, meeting and event facilities, and parking. The hotel is a great choice for both business and leisure travellers, with friendly staff and a convenient location for exploring Luxembourg. Additional features include pet-friendly rooms, laundry services, shuttle service to the airport, and an on-site car rental desk. The hotel's friendly staff and convenient location make it an excellent choice for travellers seeking a comfortable and convenient hotel in Luxembourg.
---
5. Doubletree by Hilton Luxembourg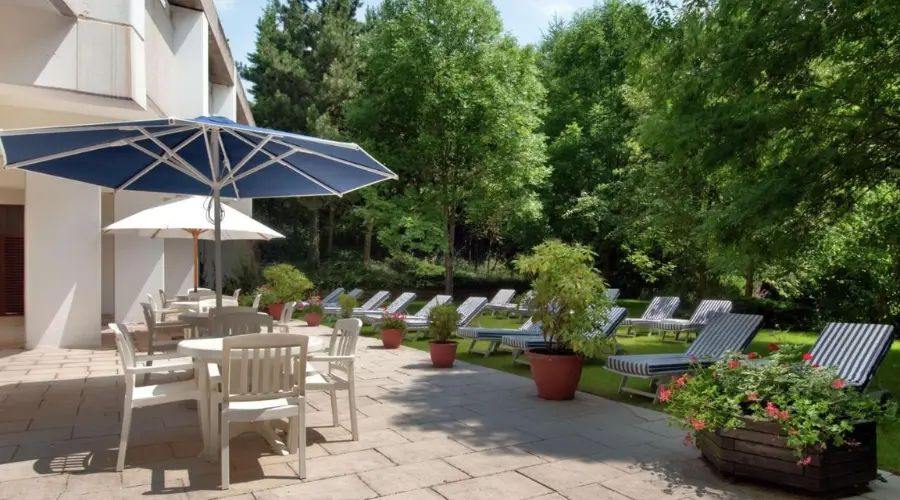 The DoubleTree by Hilton Luxembourg is a 4-star hotel in the Kirchberg district of Luxembourg City, conveniently located near the European Parliament and the Kirchberg plateau. With air conditioning, a flat-screen TV, and a minibar, the hotel provides 213 rooms and suites. Additionally, it offers parking, a restaurant with a buffet breakfast and à la carte service, a bar with an outdoor terrace, a fitness facility, meeting and event spaces and parking. All of these amenities are complimentary. The hotel's personnel is helpful and courteous, and the building's location makes it easy to explore Luxembourg. Customers have commended the hotel's outstanding location, terrific pricing, immaculate accommodations, and fantastic breakfast in reviews. The hotel welcomes pets and has laundry facilities, airport transportation, and on-site car rental desks. Additionally, after checking in, guests are given a warm chocolate chip cookie.
---
Conclusion
The hotels in Luxembourg provide a distinctive fusion of antiquity, modernism, old-world charm, and global attractiveness. These lodging establishments, which provide lavish luxury, comfortable retreats, and affordable choices, serve as entranceways to a world of wonder. The hotels in Luxembourg play a crucial role in your journey with their rich tapestry of cultural treasures, gastronomic treats, and scenic beauty. The hotels in Luxembourg offer solace and leisure after a long day of exploring, from the busy streets of Luxembourg City to the tranquil rural scenes. Let the wide range of hotels in Luxembourg pique your wanderlust and reveal the nation's beauty as you set off on your tour. For more information, visit the official website Heybucketlist.
FAQs