Living a healthy lifestyle has multiple benefits for both physical and mental health. It helps improve overall well-being, boosts energy levels, reduces stress and anxiety, and even helps prevent diseases. Adopting a healthy lifestyle requires a change in habits such as eating nutritious meals, exercising regularly, taking time to relax, and getting enough sleep. All these changes have a positive effect on our bodies and can help us lead healthier lives.
Benefits of Healthy Lifestyle: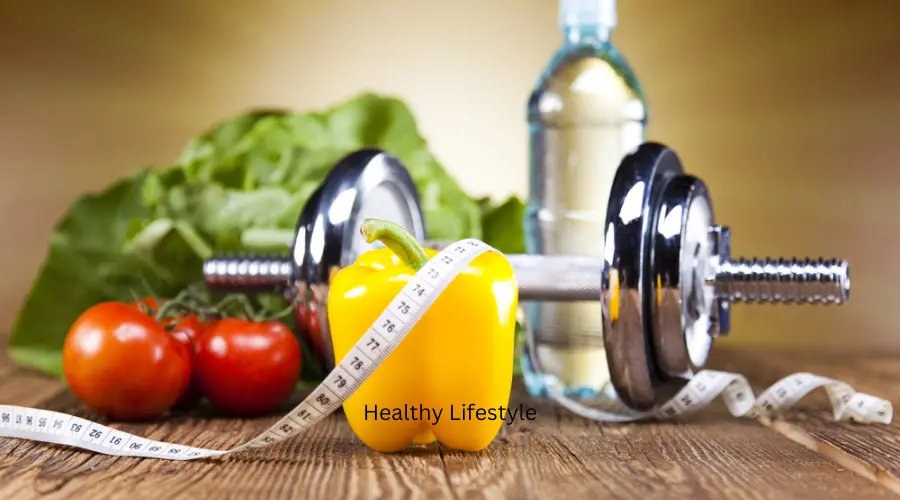 1. Improved overall health
A healthy lifestyle can help prevent chronic diseases such as heart disease, diabetes, and cancer. Healthy well-being leads to a healthy mind.
2. Increased energy levels
Eating a balanced diet, getting regular exercise, and getting enough sleep can help boost energy levels, making it easier to tackle daily tasks and enjoy activities.
3. Weight management
Adopting a healthy lifestyle can help maintain a healthy weight, which can reduce the risk of obesity-related health problems.
4. Better sleep
A healthy lifestyle can help improve sleep patterns and quality, which can lead to better mood and overall well-being.
5. Stronger immune system
A healthy lifestyle can help boost the immune system, making it easier to fight off infections and illnesses.
6. Increased lifespan
Adopting a healthy lifestyle can increase lifespan, as it reduces the risk of many chronic diseases.
7. Better mental health
A healthy lifestyle can help reduce the risk of mental health problems such as depression and anxiety.
8. Improved self-esteem
Feeling good about oneself can be a direct result of adopting a healthy lifestyle, as it can lead to feeling better physically and mentally.
Moreover, you can check the official heybucketlist website to explore the benefits of a healthy lifestyle, discover healthy lifestyle tips, and even understand the concept of what is a healthy lifestyle.
Habits for developing a positive & sustainable Healthy Lifestyle
Prioritize exercise and physical activity in your daily routine. Incorporating at least 30 minutes of moderate exercises, such as brisk walking or cycling, into your daily routine can help improve your overall health and well-being.
Eat a balanced and nutritious diet. Make sure to include a variety of fruits, vegetables, whole grains, lean protein, and healthy fats in your diet to fuel your body and promote optimal health.
Get enough sleep and manage stress. Aim for 7-9 hours of quality sleep each night, and try to manage stress through activities such as yoga, meditation, or journaling.
Stay hydrated and drink enough water. Drinking at least 8 glasses of water per day can help support healthy digestion, improve energy levels, and promote clear skin.
Surround yourself with positive influences and build a supportive community. Having friends and family who support your healthy lifestyle choices can help you stay motivated and on track. Additionally, surrounding yourself with positive influences can help you adopt a more positive mindset and maintain a healthy outlook on life.
Also read : Exploring The Finest Hotels In Queens, NY For A Lavish Experience
Using technology to help you live a ealthier Life:
There are many ways that technology can be used to help people live healthier lives. Some examples include:
Wearable fitness trackers, such as the Apple Watch or Fitbit, can track your steps, heart rate, and other health metrics throughout the day.
Smartphone apps that provide reminders to exercise, drink water, or take medication.
Telemedicine platforms that allow you to consult with a doctor or therapist remotely.
Virtual reality (VR) and augmented reality (AR) applications that can be used for things like stress reduction, physical therapy, and mindfulness.
Social media platforms that can be used to connect with others and share health and wellness tips and information.
Overall, technology can be a powerful tool for promoting healthy habits and making it easier to access medical care and resources.
Conclusion
In conclusion, adopting a healthy lifestyle can bring numerous benefits to an individual's physical and mental well-being. By making healthy choices, such as eating a balanced diet and getting regular exercise, individuals can reduce their risk of chronic diseases, improve their energy levels, and increase their overall quality of life. Additionally, healthy lifestyle habits can also help to improve mental health, reduce stress, and promote better sleep. Overall, making a commitment to living a healthy lifestyle is an important step towards achieving optimal physical and mental health, and should be a priority for everyone.
FAQ's