The southeastern part of the United States has the lovely state of Florida. It is a popular holiday spot for tourists, thanks to its stunning beaches, warm temperature, and palm trees. Bungalows in Florida are modest, quaint homes that are ideal for a family or a couple and are one of the greatest ways to explore Florida. These bungalows in Florida often have beachfront locations and are equipped with all the comforts of home. In this post, we'll examine bungalows in Florida in further detail and discover why tourists favour them so much. We'll also look at some of the top bungalows in Florida that are for rent in the state, so you can get started on organising your upcoming trip to Florida right now.
Best bungalows in Florida
These are the best water bungalows in Florida:
1. Flamingo Nook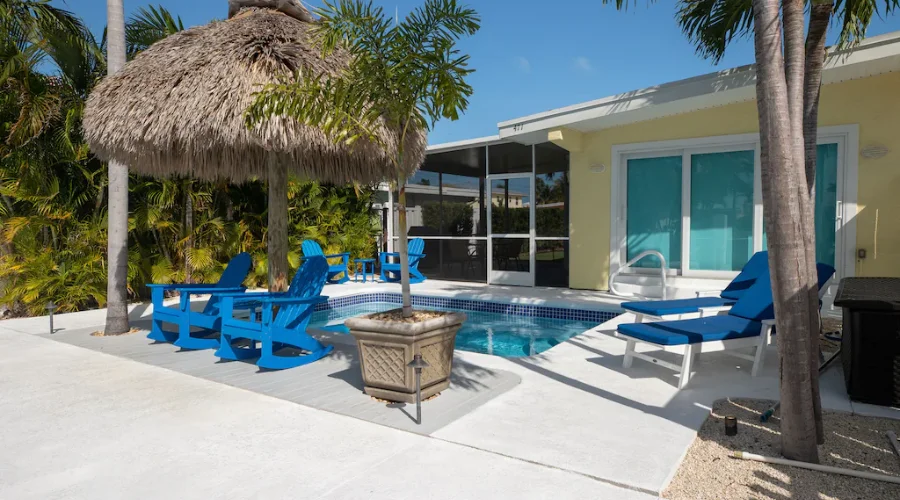 In Key Colony Beach, close to Marathon, Florida, the cosy and recently remodelled water bungalows in Florida known as Flamingo Nook can be found. It's the ideal destination for tourists seeking seclusion and quiet. This bungalow's pool and guests' access to the Cabana Club, which includes a sizable pool, a bar, a restaurant, and beach access, are two of its greatest features.
The two-bedroom Flamingo Nook home can sleep up to four people. Queen-sized beds, private bathrooms, flat-screen TVs, Wi-Fi, and ceiling fans are features of both bedrooms. A private covered terrace with views of the pool, Tiki, and dock is accessible through French doors.
Fishing fans will love Flamingo Nook since it has a big bait freezer, rod holders, a fish washing station, a water hose, and power. Additionally, there is a rack placed up on the property's side for drying dive and fishing equipment. Four Beach Cruiser bikes, a gas grill and a new washer and dryer are also included with the cottage.
---
2. Barracuda
Florida's Crystal Beach is home to the magnificent vacation property Barracuda, which just underwent a significant refurbishment. There are six bedrooms that can house 16 people. So, it is ideal for a big group or family. Beach fans will be delighted to know that the house is only a short stroll from the Gulf of Mexico's stunning sugary white beaches.
Two full kitchens and living rooms are located on each of the home's two stories, allowing visitors to enjoy their own private spaces. The open living space on the first floor is spacious and well-lit thanks to its numerous windows. A covered porch with loungers and a gas grill looks out over a private plunge pool in the shape of a lagoon. This space is accessed via double glass doors. 
A granite-topped island and stainless-steel equipment can be found in the adjoining recently renovated open kitchen. A king-size bed, a complete luxury bathroom and access to the balcony are all features of the main bedroom.
Barracuda is simply two streets from Scenic Highway 98, making it simple to get to well-liked Gulf-front eateries like 790 on the Gulf. Additionally, Destin Commons, a shopping centre, is a short distance away. Nearby are supermarkets, wine shops, and renowned national eateries.
Also read : Escape To Paradise: Discover The Best Resort In Texas
---
3. 3 mile to Disney, 1 min Walk to Pool/Slides, Free Wi-Fi, Behind Oldtown & Fun Spot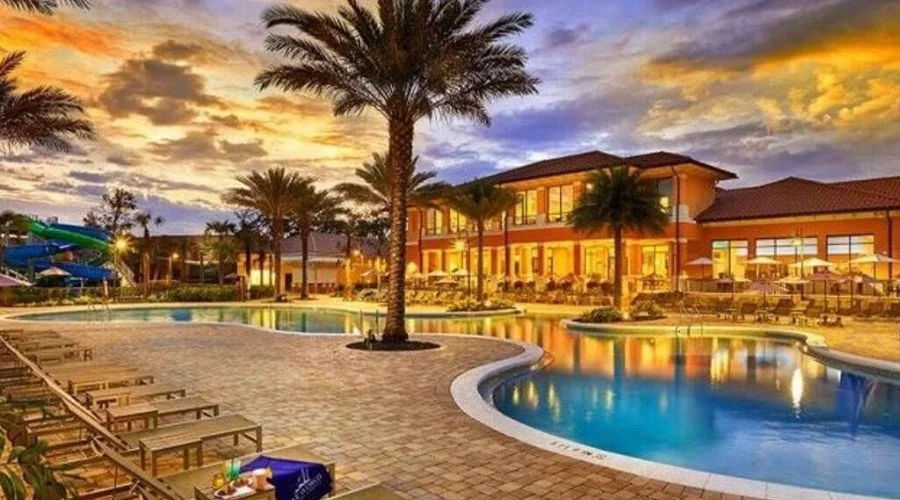 This lovely home is ideal for your upcoming getaway! It is situated in the Regal Oak resort, off Highway 192 and Interstate 4, behind Old Town and 'Fun Spot' USA. In this freshly refurbished holiday property, you may unwind and unwind.
Feel free to enjoy the heated pool, kids' pool with slides, bar, restaurant, convenience shop, fitness centre and tennis court. There are free daily children's activities offered in this gated neighbourhood as well.
The pool is a short stroll from this rented house. It is newly equipped with new beds, sheets, flat-screen TVs, towels, and all the small appliances, pots, and pans you'll need. It contains three bedrooms and three bathrooms. Also included are cable flat-screen LCD/LED TVs and high-speed Wi-Fi internet access.
Also read : Discovering Paradise: The Best Family Resort In Hawaii
---
4. New Magic Village Resort 2 Minutes From Disney
For visitors travelling to Disney World, the opulent 4-star townhouse The Magic Village Resort in Orlando, Florida, is ideal. It has a lunch and supper restaurant, an outdoor heated pool, and is only 2.5 miles from Disney's Hollywood Studios. The townhouse sleeps up to six people and includes three bedrooms and three full bathrooms. Flat-screen TVs are provided in each room, and some even have balconies, terraces, or outdoor kitchens with grills. Along with free WiFi, the resort has a 24-hour front desk where guests may ask any questions. The venue's location is ideal for tourists who enjoy visiting theme parks, tourist sites, and family vacations. 
Also read : The Best Cabin Rentals In Idaho For A Relaxing Getaway
---
5. Your Vacation Home on PRIVATE Beach (side B)
Beautiful holiday property in Florida on a private beach, this cottage. It has three bedrooms and bathrooms. Both sides of the duplex, which the home is a part of, may be rented for bigger families and gatherings. The bungalow offers a roomy living room, a kitchen that is well furnished, and a porch outside the master bedroom from which you can watch dolphins. Additionally, you may unwind on the deck that spans the rear of the home and is divided from it by a privacy fence. All required bedding and furnishings are provided at the rental for your comfort. You may also use the free Wi-Fi Internet to keep connected.
You can enjoy boating, fishing, kayaking, and golfing here. You can also sunbathe on the beach in your backyard. For those seeking to get away from the rush of city life and spend a relaxing holiday by the sea, this cottage is the ideal retreat among all the overwater bungalows in Florida.
---
Conclusion
In conclusion, Florida is the ideal location for a holiday in a bungalow. It has much to offer everyone thanks to its pleasant environment, sand beaches, and variety of attractions. The Florida bungalows provide cosy lodging with a variety of conveniences to make your stay delightful. Florida provides everything you might want from a vacation, whether you want to rest or go on an exciting adventure. So, reserve your bungalows in Florida now and begin making travel plans for your ideal getaway! For a variety of bungalows in Florida, check out VRBO. For more information visit Heybucketlist website. 
FAQ's