Cabin Rentals In Idaho suppose you are looking for a place to enjoy nature's beauty, engage in adventurous activities outdoors, or spend quality time relaxing and finding yourself. In that case, Idaho is the perfect place for you. Idaho has scenic national parks, mountains, lakes, forests, and rivers. Idaho is every traveler's dream city with its small townships and vibrant nightlife.
One of the best ways to experience and enjoy the complete feel of vacationing in Idaho is by renting a cabin. These cabins are situated throughout the state, and you can choose the one that is suitable for you based on where you want to live – on the rocky and rugged mountains of Sawtooth or the picturesque shores of Lake Coeur d'Alene. That's not just the end; you also have a choice on what kind of cabin you want to rent – a cozy little retreat by the lake, a rustic cabin in the woods, or a luxurious mountain retreat – it is all up to your choice.
List of the best cabin rentals in Idaho
Below is a list of the best cabin rentals in Idaho that are affordable, beautiful, and the perfect place to stay in Idaho.
1.     Silo House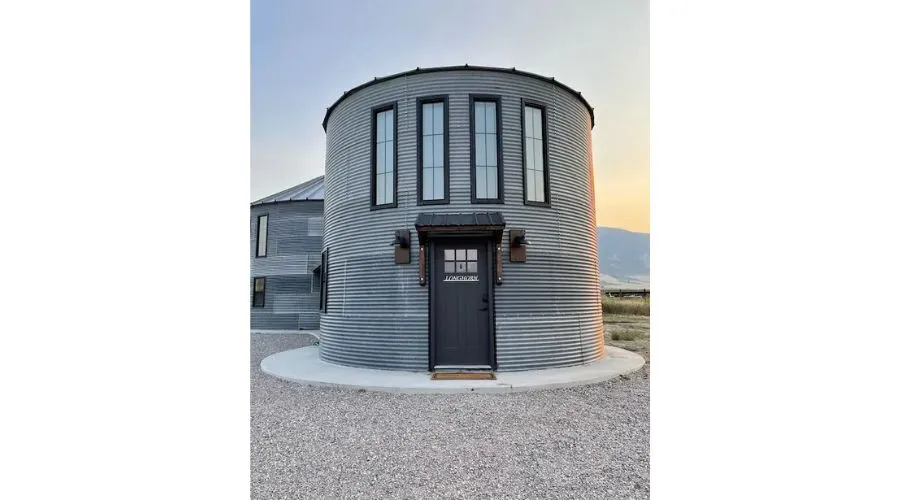 The Longhorn Silo House is a vacationer's dream, located in Idaho. The minute you walk into this uniquely architectured cabin, you will find a charming living room that is warm and cozy with a kitchenette attached. The sofa can be pulled out to a queen size bed, and the kitchen area is equipped with a fridge, a microwave, and a sink. There is also a ¾ bathroom with a spacious walk-in shower, a vanity, and a toilet. Walking upstairs, you will find a loft with a custom-made cowhide king bed. The large windows give you a sweeping view of the mountains. There is a large 75-inch smart tv if you are done admiring the view. Longhorn is only 2 miles from the famous Lava Hot Springs, Idaho. The cabin has a one-ring doorbell by the entrance door for security.
2.     Secluded Cabin near Downtown McCall, Idaho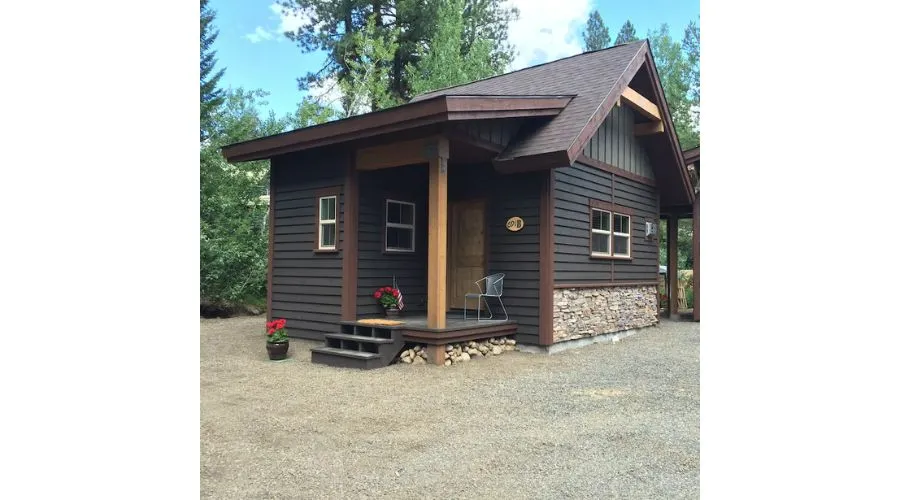 Another option is this beautiful Secluded Cabin rental in Idaho which can house 2 adults and a child. There is a queen-sized bed and an ottoman that is a twin bed. The kitchen has granite countertops, knotty alder cabinets, and hardwood floors. Other amenities include a dishwasher, microwave, toaster, refrigerator, coffee pot, and hot plates. The kitchen is also stocked with utensils and coffee, and basic spices. There is a propane BBQ grill off the back steps. The bathroom has a functioning shower, a vanity, and a toilet. Toiletries like towels and hair dryers are ready for use. You will also find a change of linen and pillows. There is also an air conditioning facility during the hot day. The cabin is only walking from dining establishments, bars, parks, the beach, and the marina. There is also a 200 ft driveway that ensures complete seclusion and privacy.
If you rent a cabin in McCall, give you access to various activities. You can go hiking, skiing, snowboarding, white water rafting, or fishing. You will also get time to explore Idaho's scenic beauty and its stunning network of national parks like Yellowstone National Park, Hells Canyon National Recreation Area, Craters of the Moon National Monument, and many more. The small towns of McCall, Sun Valley, and Stanley are a treat where you can shop and dine.
3.     Hand Crafted Log Cabin on the Salmon River with Private Sand Beach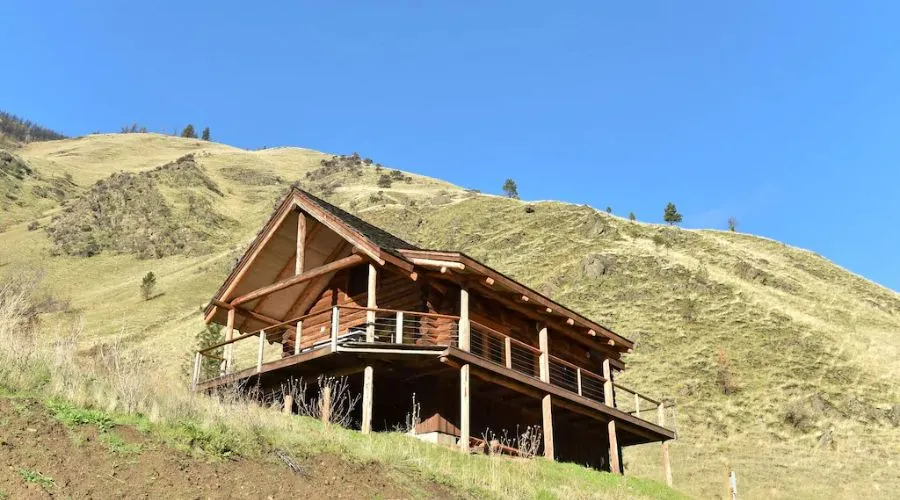 This newly refinished Hand Crafted Log Cabin is a traveler's favorite among the best cabin rentals in Idaho. Located on the Salmon River shore, this Idaho rental cabin provides a beautiful view of the river and the canyon peaks. Five miles upriver from Riggins, you will live with the constant background sound of the river water and the Cat Creek beside the cabin. A private beach at the lower end of the property is perfect for rafting and boating. The cabin has two bedrooms upstairs, with a queen-sized and a single bed in one room and a double and a single bed in the other room. The kitchen is well-equipped. A propane grill on the deck and air conditioning is available throughout the summer months. There is also a glass front electric stove for winter.
4.     Fox Creek Cabin in the Woods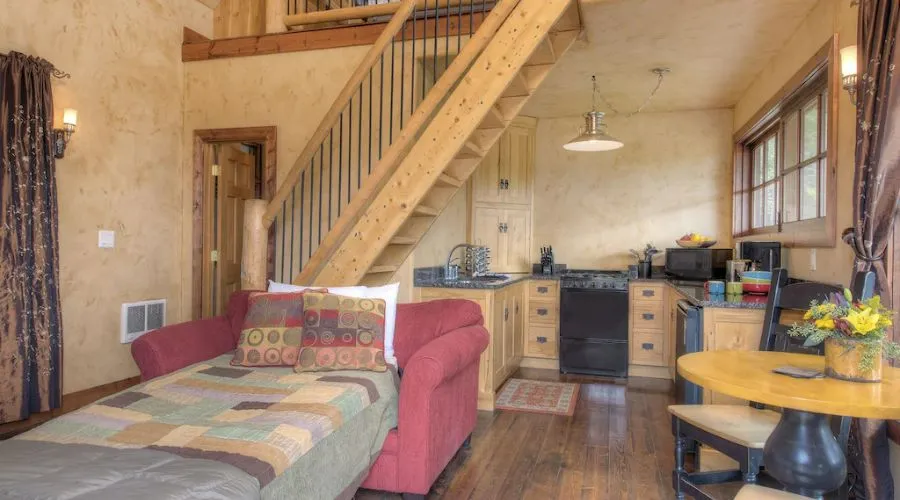 A cute cabin with high-end finishing, the Fox Creek Cabin is a rental in Idaho that is available throughout the year. It is less than 2 miles from the Teton Valley, and you can view the sunset and sunrise from the coziness indoors. The property on which the cabin stands has a hiking trail and also has direct access to the national forest. The loft bedroom has a full-size bed and a small couch that can be pulled for additional sleeping space. Suited for two adults and a child, this rental in Idaho also has a large propane freestanding stove that heats the cabin. The kitchen is equipped with everything needed, and the bathroom has a shower and a tub.
Conclusion
Idaho rental cabins are unique and offer vacationers an authentic sense of vacation. They are quaint and private, allowing you to disconnect yourself from the stress and bustle of city life. You will wake up to the stunning view of a lake or a mountain or feel right in the bosom of nature with the chirping of woodland birds. You can take time to reconnect with nature and relax in its beauty. Most of the rental cabins in Idaho come fully equipped with all amenities that will make your stay comfortable. These cabins have fully functioning kitchens, hot tubs, a fireplace to enjoy a cup of coffee, and many more amenities that will make your stay comfortable and enjoyable.
These are some of the cabin rentals in Idaho. You can browse through VRBO and the official website of Heybucketlist for more travel related content.
FAQ's