Punta Cana resides on the east coast of the Dominican Republic. It is considered a tropical paradise and is known for its mesmerising beaches, and clear waters. Tourists also love the best family resorts in Punta Cana. It will be a perfect destination for families, as it offers a wide range of activities and attractions suitable for people of all ages. From swimming and snorkeling to zip lining, there is something for everyone in Punta Cana. Punta Cana welcomes you to the vacation of your dreams. The best family resorts in Punta Cana here help make a truly unforgettable experience for everyone by offering world-class service and amenities. 
This article drives you through a few of the best family resorts in Punta Cana.
The best family resorts in Punta Cana
Deluxe Penthouse

Deluxe Penthouse | Heybucketlist
This luxury penthouse is nearby Los Corales Beach and can comfortably accommodate up to 8 people. The apartment has two bedrooms with bathrooms, a well-equipped kitchen, a living room, a dining area, a TV, and a private terrace with outdoor furniture overlooking the pool. This property has amenities like a pool, spa, and parking area. It has a private beach with parasols and sunbeds fenced by a tropical garden with a waterfall and seating areas and has a wellness center and spa. The beach cafe will delight you with a nightclub. Deluxe Penthouse is the best one for families and groups.
---
       2. Grand Sirenis Punta Cana Resort
Grand Sirenis Punta Cana Resort and Aquagames have reopened their fully renovated luxury resort, one of the best family resorts in Punta Cana. This refurbished one has a very soothing and attractive theme. Grand Sirenis Punta Cana Resort consists of two hotels, Grand Sirenis Cocotal Beach Resort, and Grand Sirenis Tropical Suites. This, one of the best 5 star family resorts in Punta Cana, is ringed by beautiful coconut groves. It offers activities for families, couples, and groups of friends of all ages. They have eight full-service themed a la carte restaurants, 1one dining restaurant, and two buffets where they provide breakfast, lunch, dinner, and snacks Free entry to the disco, two Beach pools, and two separate pools for kids. They also facilitate sporty windsurfing, kayaking, canoeing, snorkeling, catamaran, dry games like table tennis, tennis, football, Beach volleyball, and water games including pool aerobics, Introductory Diving, Archery, Mini Drive. The Club Premium Mini-Suite features a king-size bed and a seating area, plus a large balcony with ocean views and a hot tub where you can relax while gazing out at the Atlantic Ocean. Plus amenities include TV, AC, and also have a minibar. Here, you can experience a unique vacation with your families in a Caribbean paradise surrounded by an explosion of color and natural beauty. Grand Sirenis Punta Cana is the best among the best family resorts in Punta Cana.
---
     3. Barcelo Bavaro All Inclusive Room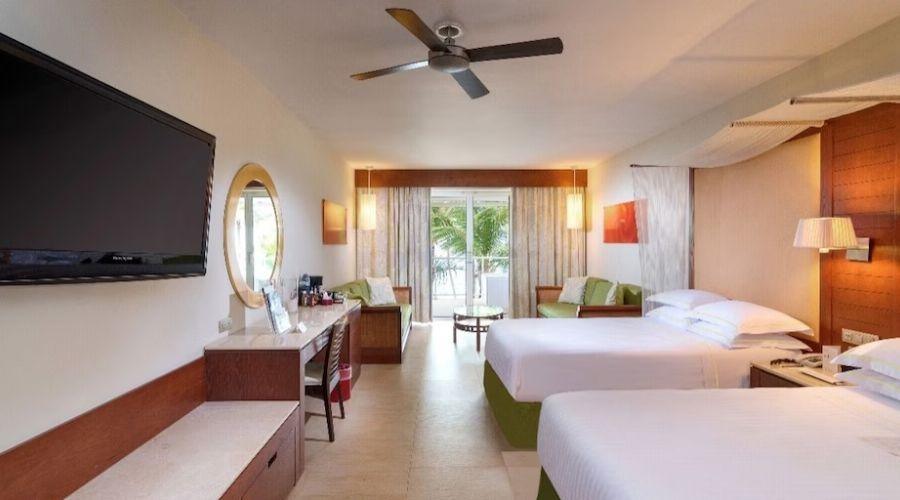 The five-star Barcelo Bavaro Palace Deluxe has a unique location on Punta Cana's finest beach, protected by a coral reef that transforms the sea into a natural pool. This all-inclusive hotel is a new luxury concept. This hotel has eleven restaurants that allow you to try the best flavors of International Cuisines. Barcelo Bavaro offers idyllic relaxation zones and exciting adventures as well. Here, the Family Club is exclusively designed for the people who visit as families to enjoy their dream vacation. Every room here has a balcony offering various sites including a golf course view, ocean view, garden, and a premium oceanfront suite with a minibar. They have a free parking area, fitness center with gym, casino, mini golf region, spa, saloon, and a lot more. On an entertainment basis, they have karaoke, DJ/Nightclub. The rooms are provided with basic amenities like AC, TV, etc. They offer one of the best services for their guest and is also one of the best five-star hotels in Puna Cana.
---
    4. Lifestyle Holidays Vacation Resort 
Lifestyle Holidays Vacation Resort resembles a paradise on land. They have furnished 1, 2, and 3-bedroom suites, living and kitchen areas, and designer furniture set the standard for luxurious comfort. It is an all-inclusive luxury resort with restaurants and bars for your convenience where you can enjoy Italian cuisine and Asian at Kimonos Asian Restaurant. This place is for those who prefer a serene environment while surrounded by luxury services and facilities. Having two separate swimming pools that meander between the different residences and terraces. Their ocean-view suites are surrounded by lush tropical gardens. Punta Cana has become a favorite destination due to the region's pleasant year-round climate. All air-conditioned rooms are fully furnished. It's the best place If you're looking for an affordable Caribbean getaway to enjoy the sandy beach in luxury accommodations for families.
---
    5. Punta Cana – The Hard Rock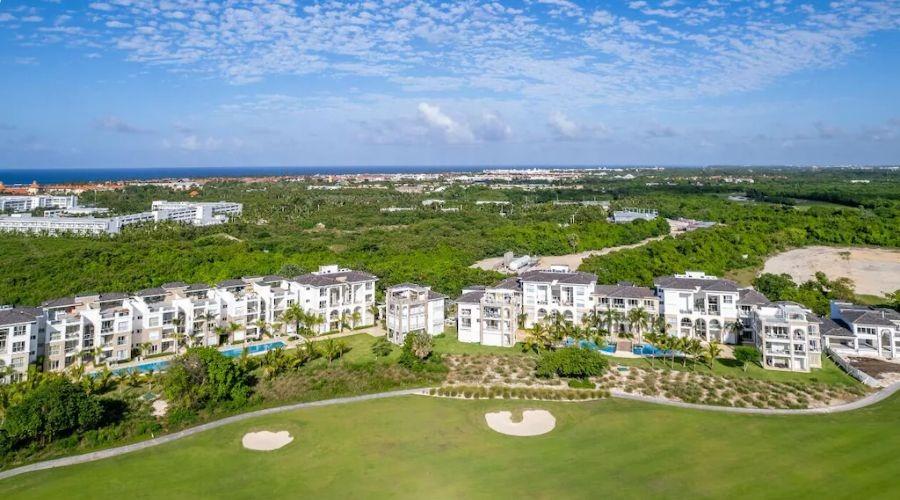 Cana Bay isn't just a resort, the Hard Rock Hotel, and Casino Punta Cana sit on 121 acres of pristine white sand beachfront in Macau, Dominican Republic. This hotel provides luxurious five-star amenities and great service. The resort offers luxury accommodations, a Rock Spa, a golf course, an iconic music band, a Casino, and a nightclub. There are also expansive pools, swim-up bars, and a children's pool. The rooms here have all the essential and advanced amenities like Flatscreen TV, AC, a separate dining area, a minibar, a whirlpool bathtub, and so on. The resort also provides a free parking facility, a boutique room, a spa, a rooftop terrace, an indoor play area for children, and also evening entertainment including karaoke and DJ. With a rating of 4.5, Punta Cana – The Hard Rock is among the best family resorts in Punta Cana.
---
Conclusion
Punta Cana has plenty of excellent resorts that cater to families. The above-mentioned resorts are a few of the top-rated best family resorts in Punta Cana which offer a wide variety of amenities and entertainment options that are sure to keep the whole family entertained. For more information on the best resorts in Punta Cana for families, visit VRBO and the official website of Heybucketlist.
FAQ's