All pets are family members. While traveling, we are unable to take them with us. For this problem, pet carriers were invented. So pet carriers are small boxes used for carrying our pets from one place to another. Also, not just for traveling, some pets are unsafe to take on the roads or to the doctor. 
So for such pets, a pet carrier is tremendously essential and practical. Therefore, this article will help you find the perfect pet carrier for your pet. Are you confused about which kind of pet carrier you should buy for the pet? Then have a look at the list of top 5 airline approved pet carriers below.
List of Top 5 Airline Approved Pet Carriers suitable for your Furry Friend!
Sherpa Original Deluxe Pet Carrier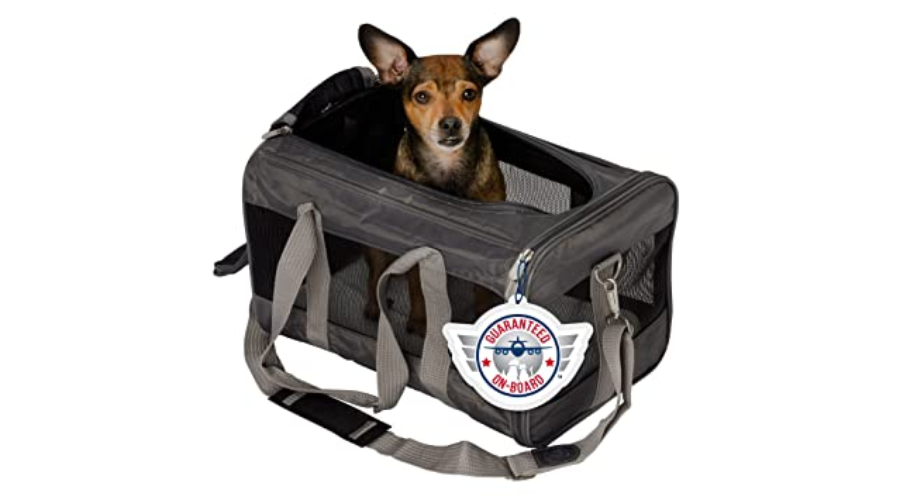 The first pet carrier is known as the strategist choice. It is the most recommended large pet carriers by experts. It is in the color black and the size of the carrier is 17″L x 11″W x 10.5″H. The material used here is polyester and it can also be a great pick for traveling in comfort. It is stylish and is both plane and car friendly. It can be either used for long-distance travel or for short endeavors like a trip to a vet. 
It is travel friendly because it has a patent spring wire frame that allows the rear end of the carrier to be pushed down several inches to conform to the requirements of the under-the-seat. In addition, it also has locking zippers for safety and mesh windows for the pet to breathe properly. Also, check out our blog Seaside Serenity: Embracing The Top Beaches In Kona.
It also has adjustable pads, a no-slip carrying strap, a seat belt/luggage strap, a machine-washable faux lambskin liner, and a rear pocket for convenient storage of treats or leash. It is available in 3 sizes and it is airline approved too. Thus this comes as the first pick in the list of top 5 airline approved pet carriers.
---
JetBlue JetPaws Official Pet Carrier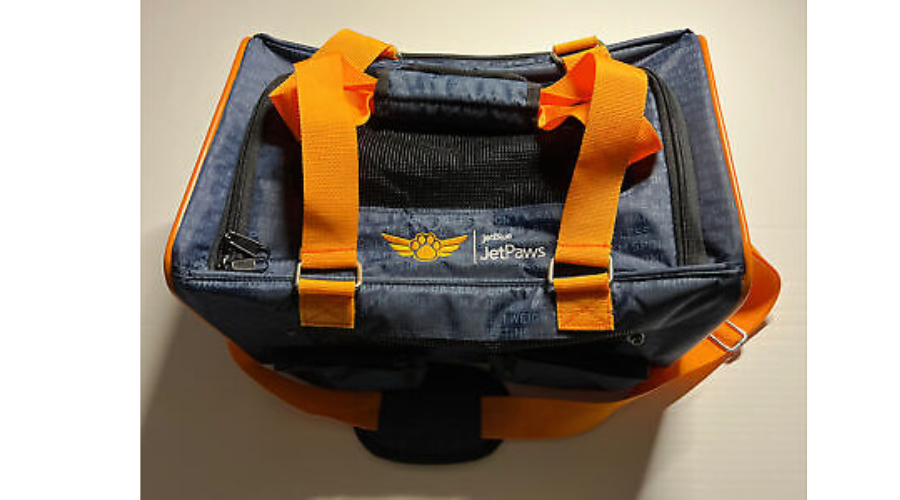 This pet carrier is suitable to bear small pets. It is one of the best small pet carriers. Also, it is blue in color and the size of the carrier is 16″L x 8.5″W x 10″H. Apart from this, it has 5 pockets for the storage of accessories. This is because small pets have a lot more essential items to be carried than grown-up pets. There are three mesh panels and it is lined with a washable pad for the comfort of your pet. 
As it is for tiny pets, comfort should be the priority of this pet carrier as small pets are the hardest to handle. There is no doubt in saying that this pet carrier gives justice to the comfortability of the carrier. It is durable and lightweight for you to carry easily. Also, the shoulder strap provided here is adjustable and detachable. Thus, it is one of the best airline approved pet carriers for small pets.
---
Away Pet Carrier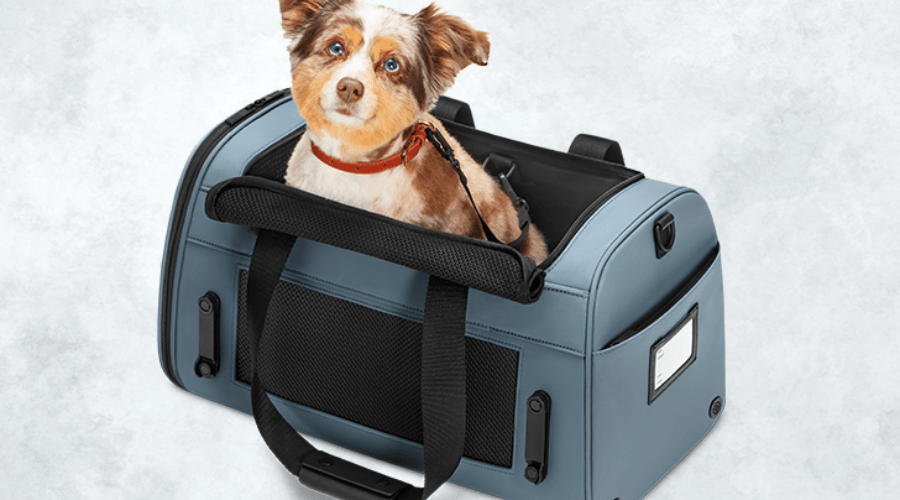 As the name says this pet carrier is the best for traveling with your furry friend. It is one of the best airplane pet carriers ever. This pet carrier is certified by The Center for Pet Safety (CPS) and fulfills the requirements of the Federal Aviation Administration (FAA). Apart from this, it has features like sherpa bedding and water-resistant lining for cleaning accidents. Visit our blog as well Phoenix Vacation Rentals: Enjoy A Budget-Friendly Vacation.
Since it is designed entirely for traveling, it has latches that can fasten it to a car seat belt making it seamless to travel. It also offers multiple pockets like the large side zipper pocket with slip pockets and a key clip and a side pocket with waterproof lining and drainage holes. 
It is also removable and washable and has a nylon exterior with leather trim. The safety collar clip provided in the pet carrier the pet escapes while opening. Also, zip top and side openings make it easy to touch your pet and comfort them while traveling. 
Lastly, it has mesh panels on three sides for ventilation and a removable name card so you can carry many pets in one pet carrier. This pet carrier is one of the best and the most efficient, which is the reason for this being in the list of top 5 airline approved pet carriers. 
Petsfit Expandable Travel Dog Carrier With Fleece Mat
This pet carrier is for pets who need to stretch and need extra space while lying down. It is gray-brown in color and is in size 18.11″ L x 11.02″ W x 11.02″ H. The material used here is polyester, metal, polypropylene, and nylon. This pet carrier has an expandable soft side carten, like an expanded mesh window. It allows the pets to sprawl out and lie down comfortably. It also allows them to see around and relax, especially when you are in a car or a plane. The extra space provided in the pet carrier gives the room to lay like their bed. Also, you can read our blog about Seaside Escapes: Gulf Coast Vacation Rentals For Unforgettable Coastal Getaways
Interestingly, it is easy to carry as it can be folded flat when not used. In addition, it has a durable material, has multiple ways to transfer it, and is airline approved. Therefore, it is one of the most comfortable airline approved pet carriers. 
Gunner G1 Kennel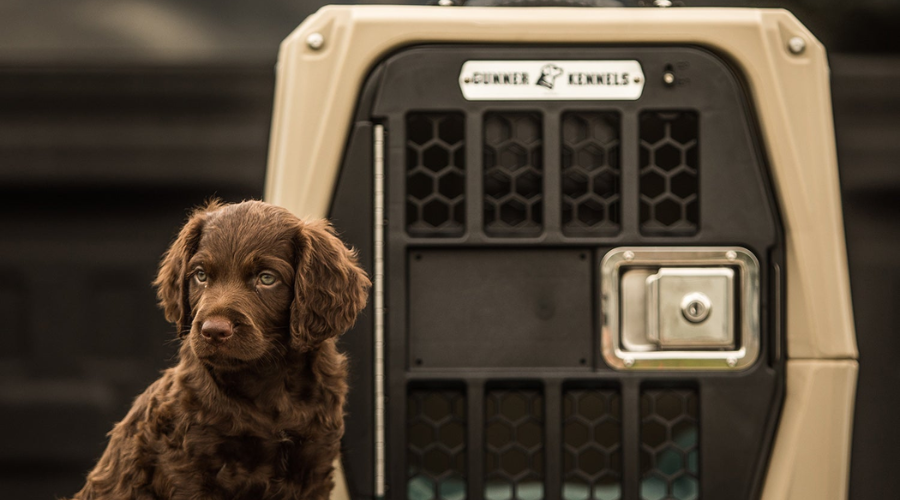 This is a hard material pet carrier that has a Lifetime warranty. Yes, you heard it right, it has a lifetime warranty. It also has Double-Wall Rotomolded for double impact protection. The carrier has essential features like a reversible door, powerful frame system, backup and safety latches, element-repelling windows, a drainage system, built-in tie-down pins, wider base non slip feet, and stainless steel hardware. This makes it an easy fit in the list of top 5 airline approved pet carriers.
---
Conclusion
Taking care of the safety and security of your pets should be the primary feature of any airline approved pet carriers. The pets should be trained before they are put in a pet carrier as they can be scared and disturbed by the new environment they are put in. Different types and materials in a pet carrier are made for various uses in different situations. For further information please check the Heybucketlist website.
FAQ's